Students participate in PBS sponsored activities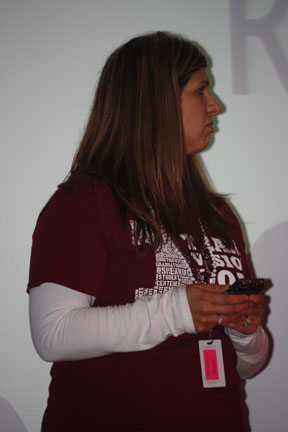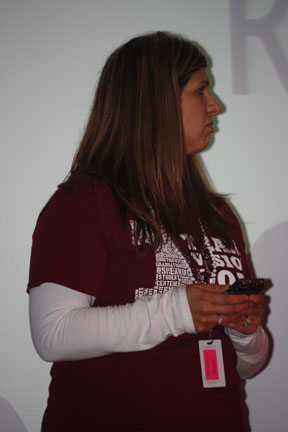 Seventh grader Hanna Howard dressed up as her favorite team player, hoping to earn lion loot.  Howard is one of the many who participated in this event on Oct. 4, 2012, which "was a great turnout" as ninth grade Minia Bhatnagar said.  Ultimate Fan Day is one of the many PBS sponsored dress up activities that will take place during the school year.
"I would do the Retro Day because it's really fun.  I would also do the Cabin Fever Day and then the spirit days," eighth grade student Tyler Stewart said.
Students are not the only people who dress up on these special days.
"Oldies is my ultimate favorite, Twin Day is my second," ninth grade algebra teacher Lori Brown said.
Brown won the Twin Day last year when she dressed up as Ugly Betty with ninth grade special education teacher, Cindy Danish.
"You couldn't tell us apart," Brown said.
"I'm looking forward to going to all the movies they will show," Bhatnagar said, referring to the several movies during the year that students can spend their lion loot on.
The Roar Store is another place where students can spend their lion loot. They have a lot of new items, such as drawstring bags and a variety of snacks.
"(I would like it if the Roar Store had) some video games and more shirts and clothing that go with the school colors," Stewart said.
Chairperson Brown also would, "like more spirit clothing"
But spending lion loot and participating in activities such as movies and Recess Day does not take away from the point about the bigger purpose behind the lion loot.
"It (earning lion loot) sets a positive tone for the school where students are doing the right things and (are) getting awarded and recognized for their good behaviors.  It's a win-win situation," Brown said.
Bhatnagar agreed.  "I think earning lion loot is important because it makes the students act the way they should in school so that the school can be the best it can be ."
And just as an idea, Stewart, Bhatnagar and Brown were asked what they would like to make their teachers (past or present) do for lion loot:
"I wish I could give them a test on their worst subject or give them three hours of homework," Brown said, referring to her past teachers.
"I would make the teachers act similar to how the students, like they would talk the same way students do, behave the same way and dress the same way," Bhatnagar said.
"I would make them wear stuff that they would never dress up as, like a guy (teacher) would have to wear a dress and makeup, and a girl (teacher) would have to dress like a guy and cut their hair or wear a wig," Stewart said.
PBS will be sponsoring many more programs, so save lion loot for activities such as the movies, or to be spent at the Roar Store to buy a quick snack or school supplies.
Leave a Comment