Record Breaker Ashlyn Noce!
Track and Field is one of Altoona's many dominant sports. For Junior high girls, they have kept a winning streak at the qualifiers meets for five consecutive years in a row! This year there were several individual athletes who held their own, but there is one girl that stuck out in the team the most.
Ashlyn Noce is an eighth grade distance runner. She has broken three records this year!
Noce's events that she broke the records for included: 1600 meter run dating back to 2019, the 3200 meter run dating back to 2014, and an all-time 3200 meter run that dates back to 1995!
The all-time record dates back to when distance runners ran for Keith or Roosevelt Junior High School! That is an outstanding accomplishment by Noce!
"In fifth grade, I was sitting in the library with my one friend, and we saw kids running cross country outside of the elementary school, and we were like, we want to do that someday," said Noce.
Noce has been running since seventh grade, but always knew it was her passion. In basketball she found that she enjoyed conditioning, and her coaches were always impressed with her running ability.
Some of her old teammates from elementary school even noticed this.
"Everyone knew that she was an athlete. She was like a superhuman," said eighth grader Vionna Jackson.
Although Noce is a naturally gifted runner, she has other tricks to help her during her races. To her it's all about the mindset.
Her teammates and coaches are a very big aspect to her running life. She loves to hear her teammates screaming her name when running. They tell her what she needs to hear to get those legs pumping! 
"I love how my teammates are always on the sidelines cheering. They may be dramatic, but very supportive," said Noce with a laugh.
 Coaches are also a massive help to Noce. Tabitha Quinn is the girls' distance coach, and cross country coach. About Quinn, Noce said, "Quinn has pushed me to be the best runner I can be."
Quinn has been coaching Noce her entire running career. Through challenging times of determination, and through times of great celebration, Quinn has seen all of Noce's milestones.
"Coach Quinn has always helped me with my times and what my goal time should be. She's been an amazing coach," said Noce.
Noce's track journey is nowhere close to the end, but she has already done an outstanding job.  The three records she broke this year are just small parts of a much bigger future ahead.
Track and field is an amazing sport and is always a fun time. For Noce, it's not just a sport; it's a whole entire lifestyle!
Leave a Comment
About the Contributor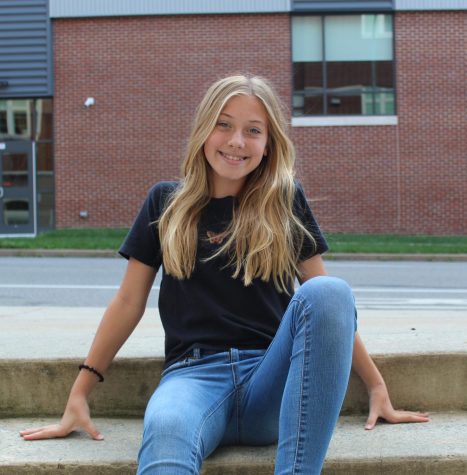 Ingrid Steward, Reporter
Hi! My name is Ingrid Steward, and I am a news reporter.  I love sports outside of school; it is one of my most favorite hobbies, especially soccer and...