Students go under the sea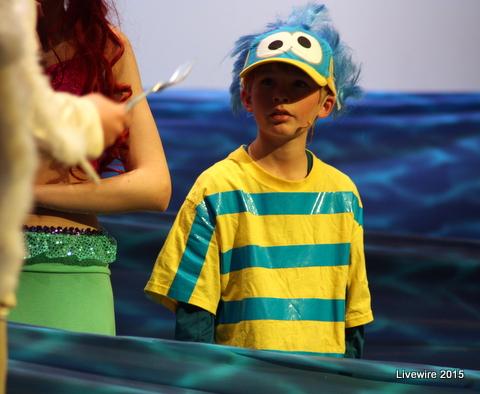 When the red curtain opens and you see them, you have no idea just how nervous the students of drama club are when they are about to perform Disney's The Little Mermaid Junior. After hours of rehearsals and memorizing lines the students in drama club performed their musical on March 6-7, 2015.
"We had no idea which musical to do this year, but Mrs. Connell (chorus teacher for AAJHS) and Mrs. Morgan (drama club advisor) and I thought we'd all make the decision together, and The Little Mermaid just looked like fun with costumes and of course the familiar songs," drama adviser Alyssa Becher said.
If you've been paying attention lately you would have noticed how much snow and negative degree weather Altoona has experienced in the last couple months.
"During the last week of rehearsals, we lost a dress rehearsal, our parent preview night, we lost quite a bit of rehearsal time this year because of bad weather. The students pulled it together," Becher said.
"I liked that we got to practice many times because as you know there were a lot of cancellations so I was happy that we could make those up," Zoe Wilson said, who was a princess and a sailor in the musical.
When the students and you sing along to "Under the Sea,", you would know that the drama director, Alyssa Becher, has been working with them for several months.Little did you know, many students have had years of experience in theater. For others, this was their first show.
 "I've been doing workshops at the Mishler since I was in kindergarten," Wilson said.
 Auditioning for the musical isn't exactly the easiest thing for the students to do. Sometimes, they don't get the part the had wished for.
"I was happy with my part, I would've like'd a more active part, but only being an eighth grader I understand," Rebecca Kibler who played the role of a featured fish.
 As I'm sure you know, a lot of time and effort has to be put into a production. The students ranging from seventh to ninth grade has multiple things to remember.
 "The hardest thing to remember was probably the blocking for all the parts I was in," Gabriella Petrarca who played the role of Aerial said.
 If you're not into performing in front of an audience, but want to join drama club, you can join for the tech crew, makeup, costumes, sounds and lights or ushering. There is plenty you can do if you're part of the tech crew.
 "During rehearsals we had to make props which was fun because we were with our friends and I got to see my friends who were in the cast rehearse their parts. Also, during the show I had to move props on and off stage," Haley Patterson said who was part of the prop crew.
In case you were interested, any student in seventh, eighth or ninth grade can join drama club. You may not get the part you want your first try, but the more you try the better the reward.
 "For future students I'd tell them don't be nervous, be who you are and perform the way that you need to," Jacob Wilt said who played Grimsby and Chief Louis.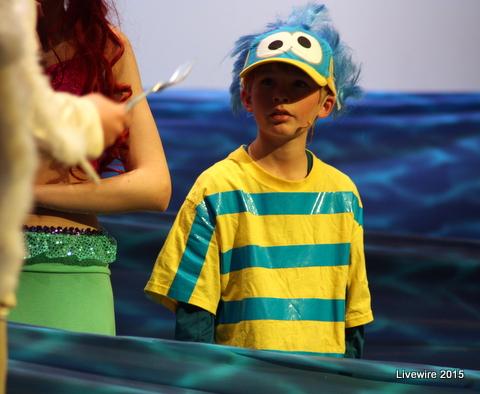 Leave a Comment