Ninth graders looking forward to Sweetheart's Dance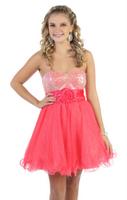 Love is in the air, and ninth graders are preparing for the Sweetheart's Dance on Feb. 14, which just happens to be Valentine's Day.  It is an annual dance toward the middle of the year for ninth graders who are interested.
"I have been looking forward to this dance since the beginning of this year," ninth grader Maryssa Brandt said.
"I have been looking forward to it since I heard we were going to have it," ninth grader Corey Doeing said.
Brandt only wants to get a dress that is not too expensive.
"Only around $30-$50," Brandt said, referring to the price of her dress.
She did not pick her dress out yet, but "my friend and I will have to decide when we go shopping."
However, Doeing already picked out his outfit.
"It was probably $50, and I got it at Kohl's."
Doeing plans on going with someone, unlike Brandt, who plans on going with a group of friends.
"An ocean theme would be cool, because it seems like it would be a nice atmosphere," Doeing said, referring to what he would like the theme to be.
When talking about Sweetheart's, many things can go right and wrong.
"(I'm scared of) the drama,"  Brandt said.  "(What would make it the worst night ever is if) I got left alone."
As for advice, "I think everyone should enjoy it and have a good time," Brandt said.
"Find someone you really want to go with, and don't wait till the last minute to find a date," Doeing said.
Leave a Comment