Keep on rocking me baby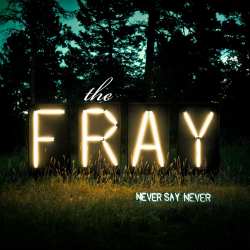 Never Say Never By The Fray
In 2009,  the single "Never Say Never" was one of the top songs in Australia and Canada.  It also made the soundtrack for Transformers:Revenge of the Fallen.  The song was along side with another one of The Fray's songs called "You Found Me".  The songs were placed on to The Fray's most popular album Called The Fray.  The album made top five on the billboards.
The song is a slow ballad that has a lot of emotions wrapped  up in it.  It's a love song that is sweet and cute.  The artist is trying to show that he would do anything for his love.  He's saying they may have problems along the road, but they still come together at the end of it all. The song is perfect for a slow dance.
A lot of music that comes from The Fray's album is amazing.  They all tell a deeper stories and that what's so perfect about them.  Music is always good when a deeper meaning is behind it because the listener can find a sort of connection to it, just like movies.  This song tells a story like a movie would tell a story.  It shows the breaking points of a person and the high points of a person's life. It comes all together to create this perfect song.  It's just like thinking of all the notes and lyrics of a song as if it were a script for a movie.  It all works together to create a great outcome and that is the work "Never Say Never" is doing.  It's creating one big picture for the listener, and that's why this song is so passionate and well put together. It's on a top for this week.
Lyrics:
Some things we don't talk about
Rather do without
And just hold a smile
Falling in and out of love
Ashamed and proud of
Together all the while
You can never say never while we don't know it
Time and time again
Younger now than we were before
Don't let me go, don't let me go, don't let me go
Don't let me go, don't let me go, don't let me go
Picture you're the queen of everything
Far as the eye can see
Under your command
I will be your guardian when all is crumbling
Steady your hand
You can never say never while we don't know it
Time, time and time again
Younger now than we were before
Don't let me go, don't let me go, don't let me go
Don't let me go, don't let me go, don't let me go
We're falling apart,
And we're coming together,
Again and again
We're crawling apart,
But we're falling together,
Falling together
Together again
Don't let me go, don't let me go, don't let me go
Don't let me go, don't let me go, don't let me go
Don't let me go, don't let me go, don't let me go
Don't let me go, don't let me go, don't let me go
Leave a Comment