Students say farewell to teachers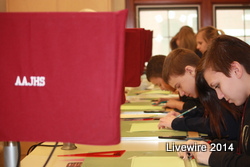 As the school year comes to a close, several teachers throughout the school are retiring. Nancy Cherry, Karen Price, Jim Heffelfinger, Mark Hutchison and Rob Williams say goodbye this year.
The majority of the retiring teachers have been teaching since the merge of Keith and Roosevelt Junior High Schools.
"I've been in the district for 27 years. I started at Roosevelt, and I was there for 13 years. Then, I went over to the high school and was the department chair for seven years. I came to the junior high when it opened," counselor Nancy Cherry said.
"I graduated in December 1976 from California University of Pennsylvania and began teaching in January 1977 at Conemaugh Valley Junior High. I turned 21 that same month. Two years later, I began teaching in the Altoona Area School District at Keith Junior High for the 1979-80 school term. At that time, Altoona had three junior high schools and thirteen tech ed teachers," Tech Ed teacher Jim Heffelfinger said.
While most students look forward to summer vacation, certain teachers look forward to retirement.
"My wife and I enjoy riding our Gold Wing motorcycle and look forward to traveling west of the Mississippi. We have already visited all the states of the Mississippi except Illinois over the last twelve years. We have also traveled through four of the Canadian Provinces by motorcycle. I also hope to catch up on my reading and watch some good movies. I plan on attending more Steelers games as well," Heffelfinger said.
Though these teachers are leaving, they didn't do so without also leaving behind advice for future teachers.
"1. Be a team player. 2. Take the advice of Mrs. Manack and Mr. Dzurko, two of the most dedicated and knowledgeable tech ed teachers to be found. 3. Incorporate fun into each day. 4. Look for each student's strength and build upon it," Heffelfinger said.
"If you can go into teaching and think of it as not a job, but an adventure, if you take it with flexibility, you'll find success. Provided you are firm and fair, and find a way to make teaching and learning fun," physical education teacher and coach Karen Price said.
Leave a Comment