Teachers get ready for break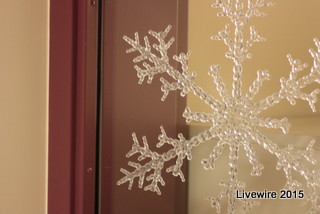 This school year, holiday break is Dec. 23, 2015 through Jan. 4, 2015.  Teachers prepare for the last two days of school before break with either school work or holiday related activities, such as a word search or scavenger hunt.
Most teachers must teach their curriculum in order to get ready for upcoming state tests.
"I know a lot of teachers, in different subjects, can do some sort of scavenger hunt or game, educational of course.  But, I am a math core teacher so I actually have to teach my curriculum so that the kids can get everything they can possibly get before the PSSA's and Keystones," seventh grade math teacher Annetta Conway.
Other teachers give holiday related activities to their students. Most algebra teachers can not give out these activities.
"I would choose to play educational games. We play a game in here called 'Zap' and a game called 'Survivor' and the kids really enjoy it. They are working with their math skills in order to, in 'Survivor', knock out other teams, so they really like that game," Conway said.
Although teachers try to stick to  normal schedule, some teachers would agree that it is not fair to students.  By strictly teaching regularly, students miss out on learning about their culture.
"I think it's a bad thing.  There are a lot of things that you learn about our culture that may or may not be related to the particular class… that the kids aren't exposed to anymore.  I think if those traditions and cultural things kind of  get lost, we are going to suffer as a culture," eighth grade English teacher Jim O'Donnell said.
However, not all teachers believe that having to do school work before break is a bad thing.  Some teachers think it is both good and bad.
"I understand both sides of it. I understand that it is a good thing that we keep focused on what we need to do.  But I, once again, still think it is important for students to realize that there is a holiday coming up and that the meaning of all the different holidays that we have is to have a little bit of fun or a little bit of levity.  I wish that we could pursue that as well for more of a family unit that we have here, after all it still is a school,"  eighth grade science teacher Barbara Mackereth said.
Teachers wish they could give out holiday activities.
"I would do something fun because I like to try to remember that even though we are junior high students that we're still kids, and everyone likes to have a little fun and down time." Mackereth said.
When students get back from break, they begin their benchmarks because the end of the marking period is coming up.
"Since we have to prepare for the benchmark we take unfortunately as soon as we get back, we are watching a movie on sustainable energy."
Leave a Comment