New seventh grade principal hired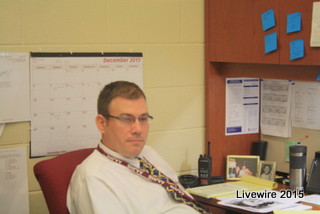 Former seventh grade prinicpal David  Campbell has moved on to Moshannon Valley high school. Travis Robison has moved from Rockwood to Altoona to take on the challenge of this job.
Robison was previously employed as a seventh and ninth grade English teacher.
 "I have not yet adjusted to the school, but I do hope to accomplish a great deal of things and certainly am anxious for what this year will bring," Robison said.
 His previous job was at a school similar to this one. It was much smaller and in a rural area, but the system was very similar.  He has much experience with this group of students.
Robison has critical things up his sleeve for this school year, one of those things is that he wants to accelerate growth and wants to ensure that every student is learning.
 "I want to be as engaged as often as possible and offer many opportunities like advanced courses and make learning enjoyable as much as I can," Robison said.
 At the end of his career as a principal, he would like the faculty and students to remember him and have great things to say.
 "I want them to remember that I was always available, firm and fair in everything that I accomplish," he said.
Robison wishes to make learning enjoyable because fun learning definitely increases interest and scores as he knows from experience.
 "He really has fit in well with the staff and kids and is engaging with the kids,"  seventh grade secretary Gail Brubaker said.
View Comments (2)