Supporting School Sports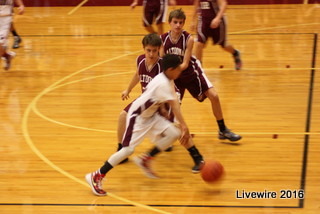 Welcome back to another edition of Supporting School Sports.
Check here for upcoming sporting events in AAJHS.
The ninth grade girls' basketball will wrap up their season tomorrow in a home game at 3:30.  Come out to see the girls play.  Come see if they will end the season undefeated for the second straight season.
The maroon and white ninth grade boys' basketball teams played on Monday this week.  The game went into overtime after Tyler Robinson hit an impressive three point shot at the buzzer.  Both teams played an outstanding game, but maroon pulled away in overtime to seal the win.  The final score was 58-55.
Governor Wolf stopped in to talk to the eighth grade girls' on Wednesday before their game against BG.  Wolf talked to coach Wilt before the game started.
"I am surprised by the amount of students participating in extracurricular activities," Wolf said.
Thanks for reading this weeks' edition of Supporting School Sports.
Leave a Comment