Staff Flyer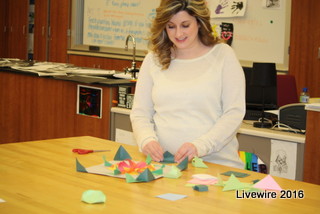 The new star staff of the week is a ninth grade art teacher Jess Miller. She teaches elective art classes and required art classes for all students in ninth grade.
The reason she started teaching and liking art is because of all her art teachers in her high school. This is her ninth year teaching art. She graduated with her Bachelor of Science in Art Education from Indiana University of Pennsylvania. Around the school, a lot of the students say she is a great art teacher.
She always loved art as a little kid. She didn't know she had talent in art until her seventh grade year and in high school.
"I love art because the possibilities are endless. You can take an idea and make it into anything you want," Miller said.
Some students are good at art and some students need help with it. Students struggle and mess up and do not get how to do things but Miller is a big help to everyone.
"Most students struggle with drawing. They don't realize there's a process to learning it and that it requires practice," Miller said.
Miller's favorite part about art is the variety of mediums there are to work on and her favorite part in art is clay because she loves sculpting.
At the end of it all .Miller is a good teaching in the art classes. She is very good at what she does but she hates the cleaning that comes along with it.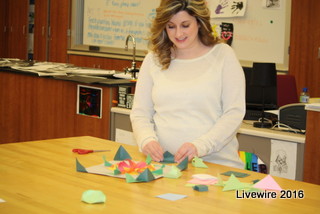 Leave a Comment