TSA sets out goal for victory in competition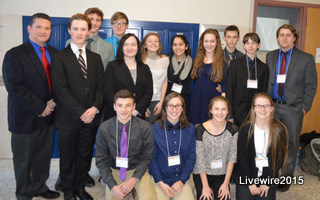 TSA is a worldwide organization that has over 4,000,000 middle and high school students around the United States.This club is forming all around the world and is growing. TSA's membership includes over 233,000 middle and high school students in approximately 2,000 schools in 49 states.
AAJHS and AAHS went to the competition held on Feb.13, 2016 in Spring Mills PA Region 8 Leadership Conference and Competitions.
Tim Dzurko and Rachel Manack are the advisors for TSA and are inviting new students at any time from any grade..
"TSA is open to all grades ninth through twelfth," Tim Dzurko said.
In the TSA competition there are several rounds and challenges the participants are involved in. In the "Challenging Technology Issues" round Noah Ruggery and Connor Mosebey placed first with Casey Rispoli and Jessica Worley in second.
The "Community Service Video" lead to a first place win for Noah Ruggery Casey Rispoli and  Connor Mosebey.
"I did a lot better than I thought I would, and I wasn't expecting to win whatsoever," student Casey Rispoli said.
The last first place wins went to Jessica Worley and Ryan Eckenrode in the "Problem Solving Challenges."
Competitions consist of  problems in communications, design and engineering, environmental systems, manufacturing construction, and transportation. In both team and the individual rounds, students are challenged to use and improve their skills in science, technology, engineering and mathematics (STEM). 
"I'd recommend it to people who like engineering and solving problems; there are a lot of competitions for anything you would like," student Bryan Gutshall said.
Expert judging by technology educators and industry representatives inspires the best from the students and the members are rewarded with medals or trophies, but they also get rewarded with memories of the relationships made and the challenge of a national TSA conference.  There is something for almost anyone at the TSA competition.
According to the TSA website teacher and students can, "Imagine an activity so captivating that your students spend hours working on it after school for weeks at a time. That's what happens when TSA members engage in TSA's competitions." http://www.tsaweb.org/
Since the TSA competition is found all around there are specific activities for that grade or school level.  The middle school to high school level students can work individually or as a team in areas of agriculture and biotechnology, website design, dragster design, flight challenge, film technology, CAD with 3D modeling, desktop publishing, extemporaneous speaking, radio controlled transportation, or scientific visualization.  
"I competed in the community service video, and I did a bunch of problem solving," Rispoli said.
Every team got different scores in their rounds based on their own skills.
"I did decently well, although I didn't win any ribbons because of the group I was in, but it was a fun competition," Gutshall said.
Leave a Comment