Junior Paw Production Class keeps busy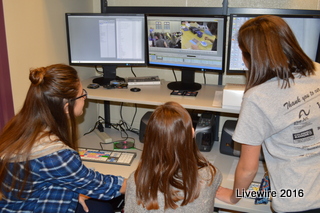 Junior Paw Productions is a broadcasting elective for ninth graders where they make videos to show the school and to tell the students things that are going on around them. When the school was built, tech ed. instructor Tim Dzurko came up with this class to teach. This class was designed as a "feeder" program for the students going into the high school broadcasting class called  MLTV.
In the class the students post a video every two weeks for the school to see. They have to cast, edit, make segments, plan and gather topics going on around the school.
"We mostly plan out what segments we are going to do, and what we are going to do with the segment we choose for the airing for the next show," Zoe Wilison said.
They have no down time during this class period. They are either working on the Jr. Paw Production to show the school, competition videos, editing, coming up with ideas or creating HTML/CSS work pages on the computer.
Also in the class students compete; they make videos about whatever their competition is about and send it to where it is taking place. Right now they are working on a video for an I5 competition. This is taking place in Pittsburgh, Pa. Students get into groups and  have to make a video about the Pittsburgh area with the focus of how Stem impacts their lives. The topics are innovations, issues, individuals, inspiring careers or incredible income potential. They have been working or their project/ competitions for a while now and finally submitted on Feb. 12.
"This competition is going to be a little difficult in my opinion because a lot of people are going to be in this challenge, and it is just going to be hard to place something," Tyrin Morris said.
During the end of the month April or the beginning of May, students will find out who are the finalists in the competition. Only some of the videos made by the students get chosen.
"The students in this class will be better prepared for what is coming up next year," Dzurko said.  
Students in this classroom have an advantage over everyone else in broadcasting or in any other class about editing and casting because this class gets them started for the bigger things.
"It is hard getting out every other week and getting a video out to show our peers because everything else you are doing, but once you get the hang of it, it is fairly easy," Taylor Meyers said.
Students in JPP work to show the students and staff the videos they make to get a laugh, to tell people what is going on and to teach some things to their peers.
"Yes, it can be struggle every week to get a video live to show the school, but as everyone hears and says if you put your mind to something you can achieve it, " Morris said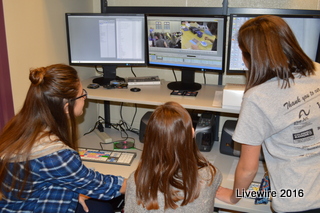 Leave a Comment