Passion for Fashion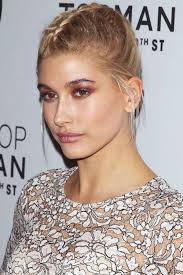 Latest fashion trends from around the world
Steal her style for less
It's fashion month and let's face it, a lot of clothes we see our favorite celebrities wearing are just so expensive. The worst feeling is when you see someone wearing something really cute and decide to search for what they're wearing, but it turns out that piece of clothing is way out of your price range.  Don't fear any more because I'm here to tell you that you can find really cute clothes that some of Hollywood's biggest stars are wearing.  
Last weekend the Kids' Choice Awards happened on Nickelodeon, some stars on the orange carpet were seen wearing some awesome clothes.  Sarah Hyland was wearing a matching jacket and shorts by Tommy Hilfiger. At Forever 21 they have a pink jacket that looks almost identical to the one Sarah wore to the KCAs, and its only $37.90.  Sarah was also wearing $700 dollar black pumps by Jimmy Choo, I found black pumps at Macy's for only $69.00.  
Hailey Baldwin was recently seen in Paris wearing light wash jeans that can be found at American Eagle for only 49.95. Hailey's leopard beanie and black sweater can also be found at Topshop for only $4.00 and H&M for $14.99.
Kylie Jenner posted a selfie on Instagram wearing a $138 black bikini when you can find an almost identical bottom and top at aerie for under $40.
Selena Gomez instagrammed a picture of her wearing a black lace up bodysuit with high waisted denim shorts with black over the knee boots. I found a body suit at American Apparel for only $32.00. I also found high waisted shorts at Pacsun for only $44.95. Selena's shoes can be recreated with Macy's short black pumps and over the knee black socks.
I hope you like looking great for less like I do! Happy shopping!
View Comments (1)