Q-site organizes Relay for Life activities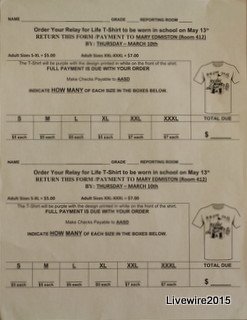 Cancer awareness is making its way to the school all of this month.  The school is educating everyone on a special event soon to come.  
Relay for life is a worldwide organization that supports cancer victims and cancer survivors.  
"Cancer affects everyone.  We all know someone who has struggled with this disease.  It's our time to find a cure!" Q-SITES chairperson Julie Good said.
All money raised will go to the American Cancer Society  an organization that informs all readers on the subject of cancer and how to help or support.  This organization is also world wide for anyone to join.
The school has been doing Relay for Life for two years so far.  They are having an upcoming event on Friday, June 10, 2016 at Mansion Park from 6-10 P.M.  Anyone can take part in the relay.  Teachers students and others can make a team to walk in the relay to support the current victim's, past victim's, or just to give moral support to others around them.      
The school makes T-shirts, sells ribbons, they make a banner to hang at the relay where everyone signs it, they also have individual groups promote their specific cause.
Emma Auker is a tenth grade student at the AAHS  has developed an inoperable brain  tumor in her brain.  The school sold bracelets on March 17 and 18, in her honor that say #KillFizzy, which is the name she gave to her tumor.  The bracelets were only two dollars and were helped designed by her younger sister Sophie who is in seventh grade.  Her family is looking for support and donations.  To donate go to her Go Fund Me page.
This is the second year the school has participated with the cause.
"This is our second year to have a junior high team, but I have participated in it for years," Good said.
Relay for Life as a whole organization has raised over five billion dollars.  Last year the school raised $1000 and is hoping to raise more this upcoming year.
Mary Edmiston is in charge of the T-shirt funds.  With the help of Anthony Pater, an eighth grade art student, they came up with the theme for this year's t shirts.  This year's t-shirts are carnival themed and should be worn in school on May 13, 2016.
Leave a Comment