Empty Bowls event supports backpack program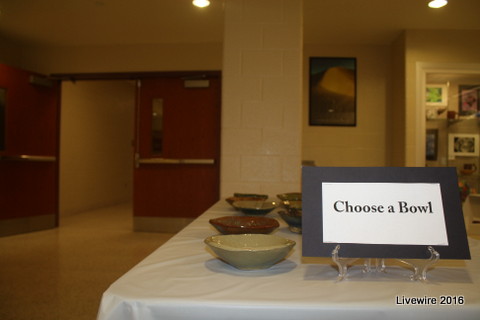 On March 31 the sixth annual empty bowls event was held in cafeteria 1 from 4:00 to 6:00 p.m.  The event provided students and their families a chance to help out local programs like the Mountain backpack program.  Tickets were sold at Thompson's pharmacy and in the main office of the school.  Tickets were $5 for students and $10 for adults, children under 5 ate for free.  One ticket provided each guest with a handmade bowl, soup, bread, dessert and a drink.  There was also a silent auction at the end of the night, the winners for the auction were announced at 5:45 pm.
Every art teacher and 3D art student has been preparing for Empty Bowls since the end of the second marking period, trying to make bowls for the event.  
"We've made over 100 bowls for the event," John King said.
Empty bowls is an international grassroots effort to raise money and awareness to fight hunger.  They try to get communities involved to bring awareness to fight hunger.
"I think it's a great way to raise awareness for the backpack program," Jessica Shaffer said.
The junior high started empty bowls when former art teacher Ann Bickel wanted to help out the community.  Soup was donated from local restaurants for the event including Prime Sirloin, Tim's American Cafe, Hoss's and Fanelli's.  Altoona is trying to bring awareness to fighting child hunger with a program called the Mountain Lion Backpack Program. The Backpack program provides elementary school students with a chance to eat on the weekends. Heather and Jim Little run the mountain lion backpack program in Altoona.
"The school came to us and wanted to help our program," Little said.
The program takes volunteers from the community to help pack the bags for the students that are in the program, the bags include breakfast, lunch, dinner, a snack and a drink for Saturday and Sunday.  The bags are then delivered to the elementary schools and given to the students on Friday afternoons to  take home for the weekend. There are 1,250 students that participate in the backpack program in surrounding areas. The 32 week program runs October through May.  The program is now taking individual sponsorships from people in the community.  All proceeds from the Empty Bowls event will go to the Mountain Lion backpack program.  
<iframe width="560″ height="315″ src="https://www.youtube.com/embed/vZntwOFKkw4″ frameborder="0″ allowfullscreen></iframe>
Leave a Comment