Lion News
Hitting homeruns is as easy as cutting out Box Tops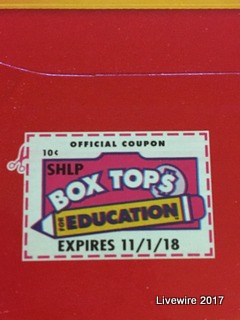 Box tops help school
March 20 starts the annual box top baseball season collection which runs through May 9. For every five box tops collected a student will be eligible for winning Altoona Curve tickets.
The AAJHS has participated in collecting box tops for many years to be able to educate and buy all the things they need to teach the students throughout the years.
Last year the school raised $1,315 which went to beautifying the school. Examples of what the money goes towards are the mural supplies, the entrance rug and the wood supplies for the bench in the lobby.
Box tops can make a difference in the school because it only takes ten box tops to equal $1 in earnings for the school.
Students participate in the box top collection because it gives them a chance to win a prize.
"I want to help my homeroom, bring in the most and also help earn some money for the school," ninth grade student Antonia Fama said.
Although students may be participating in the collection, other students don't bring in any.
Other reasons why students don't bring in box tops include they don't know what brands have box tops, and they can't afford to buy certain brands with box tops.
"I always forget to cut them out from my cereal boxes," ninth grade student Ta'Shay Seward said.
Leave a Comment
About the Photographer
McKenzie Quirin, Writer
McKenzie Quirin, a ninth grader at Altoona Area Junior High School, loves to take pictures of her friends and the sky/surroundings.  She loves to hangout...