Stranger Things in 1980's
Stranger Things cast wins big at the MTV Awards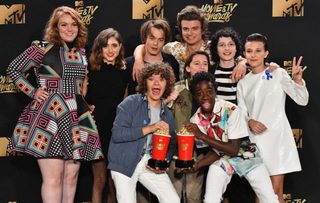 Netflix's recent run for success at awards shows continued Sunday night at the MTV Movie and TV Awards.
The popular streaming site won three of MTV's statues, with a strong showing for the Netflix sci-fi series Stranger Things. The show is about a group of small-town kids dealing with interdimensional monsters and supernatural powers. They took home the MTV award for Show of the Year, while 13-year-old actress Millie Bobby Brown won the gender-neutral award for Best Actor in a Show. Accepting the award during Sunday's telecast of the MTV awards, an emotional Brown said she was honored to play "a female, iconic character" on the Netflix show.
Stranger Things had a total of four nominations that night and closed MTV's first-ever dual Movie/TV ceremony with a celebratory moment, as the show's beaming young cast accepted Show of the Year!
These kids and the whole cast have worked so hard on the project and they all have been awarded for it.  
Although Stranger Things did not win an award at this year's Golden Globes, the popular series did take home a Screen Actors Guild Award for the best performance by an ensemble in a drama.
The "Stranger Things" winning Sunday night is also major because as the first winner, it will likely be setting the tone for what shows can expect to take home the Show of the Year award at future MTV Movie & TV Awards ceremonies. That is, if season 2 of "Stranger Things" just doesn't take home the gold again next year, too hopefully!