Kid's meal mayhem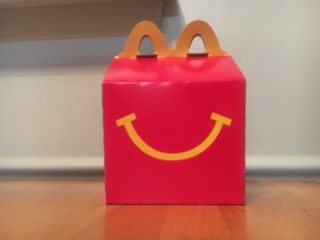 In this blog, I will review and discuss kid's meals. I will review and discuss what is in the kid's meal, the quality and quantity of the food and how kid's meal have changed since I was a child.

McDonald's
Happy meal:
Chicken nuggets
The chicken nuggets were cold and dry. I could tell by the texture and taste of these nuggets that they were not fresh. Not to mention, the nuggets left a bitter aftertaste. In my opinion, McNuggets have never been all that great, so this was not a surprise to me. Usually when I get their nuggets they are not as cold, but perhaps the nuggets were not fresh because of the time I purchased the meal.
Fries
If I had to describe the fries in a Happy Meal, I would have to simply state that they're not bad but they're not great either. I do believe McDonald's fries are better than some other fast food places; however, McDonald's fries are overrated and don't deserve the full praise they receive. When I tried this Happy Meal, my fries were somewhat fresh (more fresh than the nuggets) and had a decent taste to them that did not leave a bitter or funny aftertaste.
Packaging and toy
The happy meal comes in the original box with a happy yellow smiley face on the front.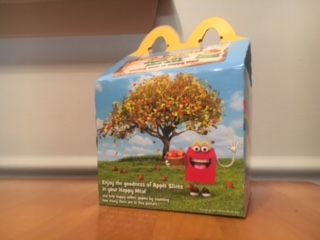 On the back (shown above) is a cartoon version of the box which is quite creepy.
The animated character can be show (below).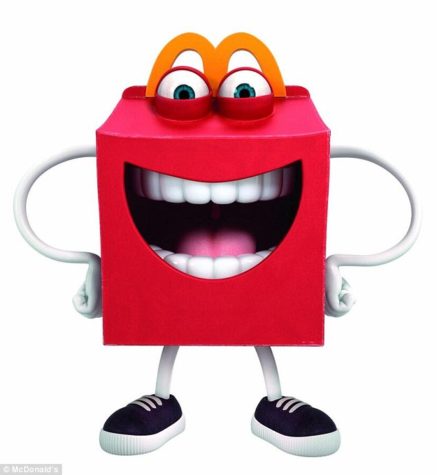 If McDonald's was trying to accomplish their goal of having a cute mascot, they clearly failed because if I was a child, I would see this eerie box in my nightmares.
The toy I received with this meal was a Hello Sanrio tea cup. Although I do not see how this is a toy, it's cute. The tea cup comes with instructions to scan it with a mobile device after downloading the McPlay app, and unlock a game.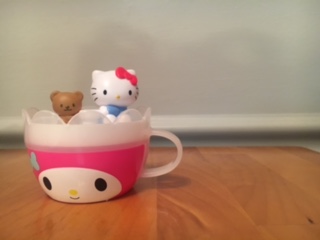 Overall, I would give the Happy Meal at McDonald's a 3/5!!
The amount of food provided in the meal was fine; however, the aftertaste and dryness of the nuggets truly affected my rating on this.
Did you like Happy Meals when you were younger?
Sorry, there was an error loading this poll.