The circus comes to ninth grade: Reptiland visits biology classes to teach about biodiversity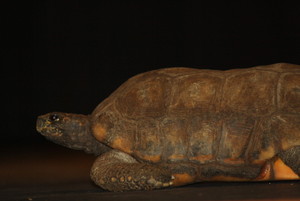 Altoona graduate and Reptiland worker Natalie Garritano brought a variety of animals to the auditorium for the ninth grade biology classes during fifth and seventh period on April 2.
The ninth grade biology teachers, Jill Rutter, Heather Partsch, Jessica Hogan, Patty Wendle and Stephanie Macaleer came up with the idea to hire Reptiland as a way to teach the students about biodiversity.
"It's better than using the book or the powerpoint because they actually got to see live organisms, which is something that we are not able to provide for them all the time, so I think there is always more learning involved when it's actually real world and live right in front of them,"  Hogan said.
"I thought Reptiland was a good way to teach about biodiversity because the speaker taught the students how the animals living in our state and our city, Altoona, affect one another and the humans, too.  Reptiland also clearly explained the positive and negative impacts humans have on the wildlife in PA," Bhatnagar said.
Money to hire Reptiland came from many different places.
"We received money from the Altoona Area School District Foundation.  They graciously gave us grant money and we also got a little bit of money from a student group,"  Hogan said.
The biology teachers decided to do this assembly since the beginning of the school year.
"We decided (to hire Reptiland) back in September because we had to write the grant by Oct. 1," Hogan said.
Hogan commented about how the biology teachers were planning on doing this in the future.
"Yeah, we would like to do something like this again, and they (Reptiland) offer different topics, or we might hire Shaffersville Creek, which is part of the Penn State system. So we would like to hire one of those types of organizations come back in again,"  Hogan said.
However, Hogan did mention some things that she wished could have been different.
"I would have had smaller groups.  My only hope was that the students would be able to touch the animals, but the problem with that is kids are germy, animals are germy, so there is a chance that someone could get sick either way," Hogan said.
"I also wished the students could have touched the animals.  I think that the only animal that students could have touched was the tortoise.  Even if the speaker did not want to put it on the ground or hold it, she could have placed the tortoise in its box and allow the students to touch it.  Then immediately after touching it, the students could have used hand sanitizer," Bhatnagar said.
When it was time for questions, the very first question was about animals reproducing.
"Obviously, that is kid's number one thing, how do they go to the bathroom and how do they reproduce, so I'm used to those types of questions, but I was just hoping she (Garritano) could handle it well, and I thought she did.  Yeah, that's typical teenager question, I wasn't too phased by that," Hogan said.
Bhatnagar commented on what was her favorite part of the assembly.
"I liked it when the speaker took out each animal from their box and showed the students.  It helped the students to understand about the main topic of the assembly, biodiversity," Bhatnagar said.
Just for fun, Hogan revealed what her favorite animal is.
"My favorite animal is the panda.  I would have loved it if they would have brought one.  They just wouldn't have been able to leave with it," Hogan said.
Leave a Comment