Students question Michelle Obama's plan for healthy kids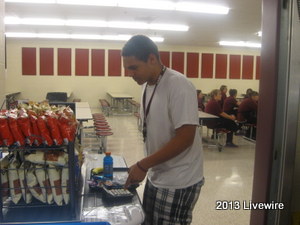 Compared to the previous years, the school's lunch has changed in many ways, since Michelle Obama's school lunch plan was created for all the schools throughout the nation.   Many students have complained about not getting enough food to eat and that the food is not as good as it was before the guidelines were made.
 "The changes are designed to improve the health of nearly 32 million children who eat lunch at school every day and almost 11 million who eat breakfast. Overall, kids consume about 30% to 50% of their calories while at school," according to http://yourlife.usatoday.com.
While some would say the food is good, many students would say the food is not so good.
"Honestly, I think the food is delicious depending on what you chose to get," ninth grader Andrew Williams said.
"I really don't like the cafeteria food, instead I usually just pack," ninth grader Emma Kreuz said.
Even though some enjoy the food they do not agree with Obama's rules on the food portions, the use of whole grains in school food and other guidelines listed below.
"I don't agree with the food portions because many parents are complaining that their kids are not being fed enough and are being cheated of their money, which I agree completely," Williams said.
" I do agree with the food portions because many kids these days eat too much causing them to be obese," Kreuz said.
Also, many do not agree with the cafeteria's use of wheat in their pastas and breads.
"I don't agree with it because it destroys the flavor of the food and makes it taste more bland," Williams said.
"I do agree with it because it's healthier for the students to eat," Kreuz said.
In addition, some ninth grade students feel that the cafeteria should be making more food, so they would not be running out as often as they are.
"I feel they should be making more food because some students have a set mind frame having a "taste for a certain food" and then find out they've run out and are angry or upset.  To be honest they run out of food at least three times a week," Williams said.
"I do not think they should be making more food because  many kids already eat more than they should throughout the day," Kreuz said.
Many would say the quality and the amount of food given would need to improved, if some improvements were to be made, according to Williams.
Several students enjoy having the variety of drinks, ice creams and snacks with their meals; however, some do not agree with the pricing.
"I love the idea of being able to have ice cream, snack, and a variety of drinks for lunch, but I think they need to lower the prices in drinks because a six. oz gatorade is a $1.25 which you could get a 32 oz bottle at the store for a dollar. The chips however are a good price," Williams said.
Although many like the idea of having options when it comes to the food, some question whether or not it's a good idea.
"Don't get me wrong, I enjoy having many food options because I never know what I'm hungry for, but I'm starting to that it may be a bad idea because after spending three years with a variety of food, students will go to the high school with barely any options at all. So it's definitely going to be a change," Williams said.
"If I could change one thing about what we are served in the cafeteria, I would add kool aid to the drink options because it makes the world go round and everyones day much better," Williams said.
Obama's  guidelines for school meals, included:
Lowering the amount of sodium, trans fat and saturated fat

Only serving fat free and low-fat milk

Reducing calorie intake and making sure portion size is appropriate, according to the children's ages

Making certain that kids are offered vegetables and fruit every day of the week
All grains offered to students must be rich in whole grains such as brown rice. Breads, buns, cereals and pastas must list whole grain as the first ingredient.
Calorie intake for students:
Kindergarten to 5th grade – 650 calories

6th to 8th grade – 700 calories

9 to 12th grade – 850 calories
Leave a Comment