Harvest Fest kicks off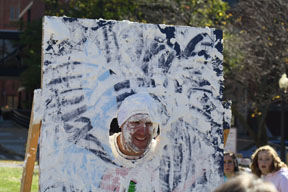 A hand full of students and teachers were at school to experience Harvest Fest on Oct. 11. The Harvest Fest had about forty games like throwing a pie at the teacher and dunking teachers into cold water.
The students that went to Harvest Fest had to sell two magazines for the fundraiser in order to go.  They got to go out and have fun during the afternoon of the school day.  The Harvest Fest was from the end of second period to about 2:30 in the afternoon during eighth period.  There were a bunch of basket prizes like a Steelers basket, a movie basket, a Halloween basket and a snack basket.  Students even got to buy food at the Harvest Fest.  There was popcorn, cotton candy, nachos and cheese and soda for kids to buy.
"My favorite part was definitely throwing the pies," eighth grader Rhiannon Stangl said.
All grade level student council and some parents helped in the morning to set up for the Harvest Fest.
"I think that the new seventh graders were not expecting this and had a lot of fun," eighth grade teacher Beth Bronson said.
Some of the teachers that participated in Harvest day were Bron Clouser at the dunk tank, Jonathan Klingeman reading people their fortunes and Sean Cerully helping with the bowling activity.
"I had a lot of fun watching teachers get dunked in the dunk tank," Rhiannon said.
Once again, it was a great day for everyone who went, and the students and teachers cannot wait to see what activities there will be next year.
View Comments (1)