Everyday's a Prank Day: Pop the Cake!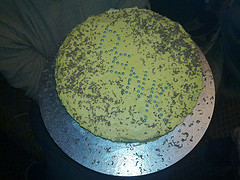 Laughs Today, Memories Tomorrow
Pranks are often given a bad image, but what people don't know is that pranking can actually be good for you.  They often lead to laughter, which is an efficient way of staying healthy and happy, but most of the time it just depends on who is being pranked and whether or not the prank went as planned.  Laughter burns calories, reduces stress and can increase immunity levels in the body, according to this website: www.robinthompson.com/2005/06/statistics-to-laugh-about.html.  There is only one rule that must be followed before reading on to the prank:  Please try this at home.
A good prank to try would be the "Balloon Pop Cake" (an alternate way of doing this can be found at  http://www.instructables.com/id/Exploding-Cake-Prank/.  This is also where I got the idea.)  It should be around a holiday, probably a birthday.

Take a piece of cardboard, cut it into 3 pieces, and tape them together with sturdy tape (I would recommend duct tape).  Then blow up a balloon to fit inside of the circle made of cardboard.  Make sure that the balloon is secure by adding more tape to hold it in place.  Cover the balloon and cardboard gently and carefully with whip cream or icing, but make sure the balloon is completely hidden.  Then decorate it to your liking.  When the time comes to cut the cake, make sure that the Birthday Boy or Girl cuts the cake.  Have a camera ready to capture the moment!  But make sure there is another edible cake, just to be nice.
Another prank to try with a birthday is the Inedible Cake.  A small cardboard box is needed for this, or other items can be used, such as toilet paper.  All that is needed to do is to completely cover the outside of the "cake" with whipped cream or icing.  Then watch the face of the Birthday Boy or Girl cut the cake, and find the cake as hard as a rock.  Literally.
Read this blog next week to read about a prank one of your classmates pulled!
Leave a Comment