Sixth-grade-visitation brings back "out with old, in with newer," concept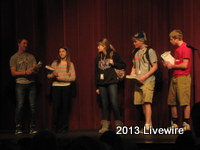 Marking the progression toward the end of the year and the procession of another, the next generation in the history of the school made its way through the halls and stairways students travel through in their daily schedule. The sixth graders, going on seventh graders, were led by the same principals and counselors that many of the current junior high students met in the start of secondary education. So begins the yearly transition for AAJHS.
"I think it went very well. This was our fifth year doing this, and I think the sixth graders enjoyed it. I think it will really help their transition into junior high," Starr said.
With the arrival of the elementary students, some students were taken over by thoughts of their first year the changes the school has gone through. More rewards for the younger students, smaller portions, meal regulations and others are examples of that change. But, those students themselves would like to express said feelings on their own.
Ninth graders, Maseon Green, Al-Malik Harper, Robert "Bobby," Corl and Akil Bey-Johnson began an argument over all the experiences and who had the most. Among those arguments came over 20 different stories each with their own twist.
"I was looking forward to making the teams and being able to make it with other people. But, you know, I was too good for them and I didn't make it," Harper said, with joking comebacks from Green and Corl.
Following the example of the ninth graders, eighth graders, Charles Smith, Michael Bruce, Mackenna Daniel, Mackenzie Brunnhuber and Lauren Woomer, had many experiences meant to "make the other students think of their first year at the school."
When asked of fears and intimidations within the school, Woomer and Smith said "We were afraid that the teachers would be mean and the 'tall people' might be, too."
With the other two grades involved, several seventh graders volunteered to be the next in the line of memories, including Jonah Noel, Damien and Jailin.
"I know I was afraid of meeting new people that I didn't know and getting lost. I remember getting lost for the first three days,"  Damien said.
"All I looked forward to was the girls," said Noel.
These stories and many more came to the ears of reporters for The Livewire. If any reader has stories, feel free to leave them as comments under this article. The counselors and principals wish luck to the older students going on to different adventures and welcome younger students into exploring new ones.
Leave a Comment