Ways to stay connected with friends during quarantine
It is no doubt that the Covid-19 virus has completely shifted some people's schedules. Schools are being closed for the year, people are working from home and teens are having to find new ways to communicate and stay in touch with their friends. 
Coronavirus has been forcing teens to brainstorm new ways to communicate, while they are still taking part in social distancing. 
Facetime and phone calls: Facetime has helped kids stay connected since June of 2010 when it came out. Some teens have been having group Facetime calls with their friends to try to stay in touch with friends during quarantine.  
Snapchat: Snapchat is an app where users can take pictures of themselves or what they're doing and send it to their friends. Snapchat is commonly used to keep teens in contact at all hours of the day. 
Teens have also become more creative and finding ways they can actually see each other while maintaining social distancing.
"Corona picnics": For the people who don't care for over the phone hang outs, people have come up with a solution. Teens have been packing a meal into their cars and going to a parking lot and parking their cars in a big circle for what they call a "Corona-picnic." This way teens are maintaining social distancing, yet still getting to see their friends in person. 
Birthday parades: Over the course of the past few months, lots of teens have had birthdays and were stuck inside the house. Groups of friends have been having drive by parades for their friends birthdays by decorating their cars and driving past the birthday boy/girl's home.
Baking treats for friends: I have personally taken part in this one myself. Teens have been baking cookies, cupcakes or any sweet treat to share with their friends and dropping them off at their doorstep. I personally baked cupcakes.  
"A few of my friends and I went to a huge Walmart parking lot, and we sat and talked for hours. We all opened our trunks and sat in them and had lunch. It was definitely a great experience and the best thing to pass time since I wasn't able to see them for months," ninth grader Morgan Lardieri said. 
"I baked cookies for a few of my friends and dropped them off at my friends' houses. I made sure my hands were clean before I baked them and also when I dropped them off. I would drop them off at their doorstep and then back up so we could talk for a minute while maintaining social distancing," ninth grader Gracie Wilt said. 
Personally, I have been baking for my friends, Snapchatting them and having group Facetime calls almost every night. We will sit and talk for hours. We have been calling them "virtual sleepovers." I feel it has helped me a lot with coping without being able to actually see them.
View Comments(1)
About the Contributor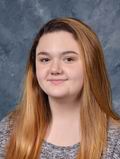 Cassidy Klock, Reporter
Hello! I'm Cassidy, a writer for the Altoona Area Junior High school newspaper! I am a ninth grade and academic student. Ever since I was young, I've enjoyed...