Fr3sh: "All across the latitude, e'rybody rockin' dem snapbacks….."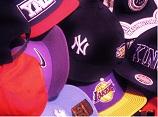 Musician Driicky Graham, born Nasir Frederick Graham, of North Carolina, was all right when he said that phrase. A fad started by Tyga and Chris Brown, after an approximate 10 year period of rest, "snapbacks" have been sweeping the nation.
The AAJHS "Hat Day", on Friday, Nov. 9 was a great example of how this article of clothing has become part of this generations representation to the world. Snapbacks come with everything from sports teams to favorite phrases to favorite musicians. And not only can one get those various things displayed on the front two panels, but you can get various panels and attachments of the hat. Each hat is worn its own way and is fit to the owner's liking.
Now, for those people out there who don't what a snapback is, it is simply a hat that was originally designed with a ponytail hole for women. Although, snapbacks became a major fad clear back in time like the 60's, because they simply were adjustable, unlike beanies and black panther hats.

When it comes to purchasing such a hat, there are a million or more possibilities. One great example is a place that explains itself in the title, the "Lids" store. Hats come in over 100 different styles. Plus, if you're not satisfied with the design of a hat or you just want to add a little more, there are over 15 different fonts to customize on your hat. Possibilities range anywhere from your name to your favorite music crew to get printed, at a cost of course. Plus, if you believe that the hats are a little pricey you can always ask a family member for one in good condition, since vintage snapbacks are rarer, worth more and different than everybody elses. And if that isn't your style, you can always visit somewhere like PACSUN or ROSS's to get a snapback for an average of at least five dollars less than the typical $22.oo to $26.00, or more, hat.

And remember, if that isn't your kind of "thing", "fitted" and "beanie" hats can be alright too. And just ignore if someone insults how you dress. Everybody has their own swag and way of getting it done.
For more information on snapbacks and other caps check these websites:
http://www.neweracap.com/Locator.aspx
http://www.lids.com/?cpid=google&gclid=CNLo-9D6zLMCFcXb4Aodc2YAWg
http://www.champssports.com/?SID=8814&inceptor=1&cm_mmc=SEM-_-Engine-_-champssports+store-_-Google
-Keep it Fr3sh
View Comments (2)