Teachers create assembly for students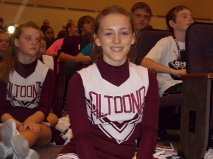 School is now back in session. The principals and teachers talked about making an assembly that would be fun for students. On Oct. 1, the school had a ROAR assembly. The principals and teachers showed students what it means and how to show ROAR in school.
The motto of AAJHS ROAR Program is ROAR. This means to respect others, to take ownership, to show good actions and to have good relationships with peers. According to the principals, if students follow the motto, they will have a successful year of school.
"I had so much fun cheering at the assembly this year," eighth grader Sara Sohmer said. "My favorite part had to be running around for each song and dancing with the people in the audience."
"It was fun and enjoyable, and I liked it a lot," seventh grader Alauna Feathers said.
The teachers would show a little skit explaining what not to do in school. Then, a student would come up and tell everyone in the audience what the teachers did wrong. The teachers would fix what they did wrong to show students how to act properly in school. After that, a few students would come up and play a minute to win it mini game.
"The minute to win it games did not help me understand what ROAR meant. I thought they were just random, fun games," Feathers said.
"The minute to win it challenges helped me understand ROAR, because it in order to win, the students and teachers had to work together to win," Sohmer said.
This year the drumline performed a few times. They have never played at the ROAR assembly before.
"I did not understand why they were there. I think that it wasn't appropriate. They were really loud, and I didn't like it," Feathers said.
However, Sohmer did not agree with Feathers.
"Yes, I thought that they were very appropriate for the assembly. They got everyone really involved and excited," Sohmer said.
The cheerleaders get involved in the assembly every year. They also help get all of the students excited and fired up.
"Only a few of the cheerleaders were able to get me excited. Some of them looked like they were not excited to be there. However, they were very involved and fun," Feathers said.
"As a cheerleader, the other girls made me happy to be a cheerleader. They made me excited about cheering up the audience. They also displayed their ROAR very well," Sohmer said.
Finally, the teachers said that the assembly was a big success this year and that all of students had a great time.
Leave a Comment