Students go outside for one day of no work, having fun with friends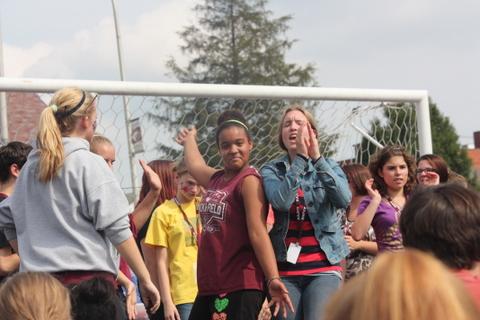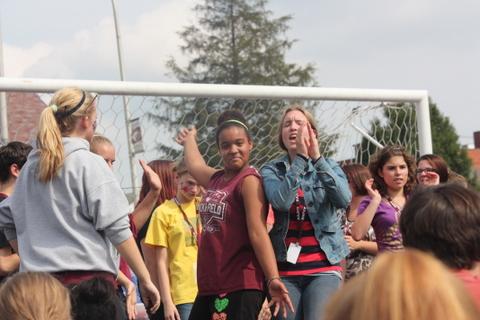 Students lined up from the IM Field to the front of the school to get into Harvest Day. They could not wait any longer to have fun and spend time with their friends. There were many activities for them to do, and students wanted to see their teachers do wild and crazy things.
Students who sold two magazines got to go outside for one day of spending time with friends and no work to do whatsoever. There were also a lot of different activities. The teachers used the two fields: one for activities and the other for sports.
Many hours of planning go into the day. Some booths were different from last year. They also had some different sports for the students to play. They had kickball, football or students could walk around with friends and just talk.
"I thought Harvest Day was fun, and it had a lot of nice activities," eighth grader Joshua Blake said. "My favorite part was the Pie-in-the-Face game because my soccer coach Mr. McDowell was in it."
Pie-in-the-Face was a game where students could throw pies at their favorite teachers to have fun. Some students would even come back more than once to throw pies at the different teachers. The teachers weren't even in the competition and they were still getting hit with pies.
"I thought that it was a lot of fun and that I could find everything I wanted," seventh grader Emily Henry said. "My favorite part was the Pie-in-the-Face game because I got to throw pie at my teacher, Mr. Depiro."
When students would walk over and pay to throw pies, they got to pick their favorite teacher. The teachers got a lot of enjoyment out of it. They liked seeing students from their classes walk up and actually have a good time.
"I really liked Harvest Day because I got to hangout with my friends I don't see during the day," Blake said. "I don't think it could've gotten any better because it was perfect the way it was."
Harvest Day had a different setup than last year. Usually, the dunking booth and Pie-in-the-Face game would be over on the IM Field, but this year they moved them over to Roosevelt Field to make more room for some other booths that did not have a lot of space. Plus, the students had more room to watch the teachers get dunked and to watch teachers get hit in the face with pie.
"Harvest Day was the best day ever!" Henry said. "I thought all of it was fun."
"I think my least favorite part of Harvest Day was going in so early because we could have stayed outside longer," Blake said.
Harvest Day lasted from third period to seventh period. After the day was over, students had to go inside and return to their eighth period until the end of the day.
"I thought kids should not have worn their lanyards outside because there was a lot of athletic activities," Blake said.
"I think kids shouldn't have worn their lanyards because it was easier to lose them," Henry said.
People who participated in Harvest Day had to wear their lanyards outside because the teachers and staff needed to know who was from the junior high and to make sure no one was sneaking in to Harvest Day.
"Another thing I liked at Harvest Day was the lunch," Henry said. "The food there was really good."
"I liked the food because it had a lot of protein," Blake said.
The lunch for Harvest Day was cheeseburger, hot dog, baked beans, fruit, milk and cupcakes. When the lunch period for each grade would come up, someone would go around and call out seventh, eighth or ninth grade for them to go and eat lunch.
Harvest Day raised approximately $2,000 throughout the day.
Leave a Comment