Brainfood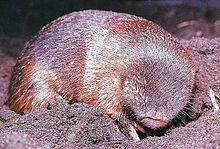 Many people have heard of fireflies and glow worms, but what about glow-in-the-dark sharks?
Believe it or not, many different organisms in the world glow. Take the Diplocardia longa for example. This glowing earthworm lives in the Southern U.S. and can grow up to 18" long. The Diplocardia longa emits a special slime that causes its distinctive blue glow. The cookie cutter shark also emits a glow which helps it to catch prey. The shark's stomach glows in all but one spot, which resembles a fish when viewed from below. This spot on the cookie cutter shark's stomach attracts other fish, which it makes its meals out of. Imagine having to glow to get dinner every night!
Certain types of mammals also have the ability to glow. The golden mole, which has iridescent fur, holds the title of the first glowing mammal discovered on Earth. Although named the first, the golden mole shares its title of glowing mammal with another species. We, humans, actually have the ability to glow as well. Instead of having bio-luminescent hair or glowing stomachs, we emit a weak glow, or aura, from our faces. Pretty cool, right?
(Information in this blog came from Uncle John's Fully Loaded 25 Anniversary Bathroom Reader.)
Leave a Comment