PSSA approaches this March and April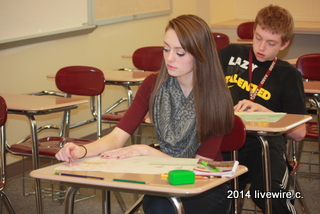 Seventh and eighth graders will be taking the math PSSA March 31 and April 2. The reading PSSA will be held April 1 to April 3. The eighth graders will be taking science and writing PSSA's this year also. Seventh and eighth grade teachers are preparing their students for the taking of the PSSA.
PSSA stands for Pennsylvania System of School Assessment.  Students start taking the PSSA's in third grade all the way up to graduation.
Students in seventh and eighth grade will be trading lunch times with the ninth graders because of the PSSA schedule. The students also get a snack in between taking the PSSA.
 "We're doing a lot of worksheets and prep work," Karlee Noel said.
PSSA's don't count as a grade but to graduate students have to pass the PSSA's.
 "It is a good way for students to measure what they have learned year to year, gives them an idea of concepts that they have gotten better at since sixth and seventh grade,"  Troy Pincherri said.
"There's no stress," previous PSSA test taker Logan McGearey said.
 "I didn't like spending many periods of time with one single teacher," McGeaery said.
"The PSSA's are not making me nervous because it's just like a regular test," Carson Weyandt said.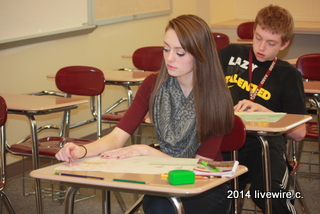 "I didn't like how long they took to take the PSSA's, and having to do  other work after I didn't like that," Tyler Skelley said.
 Good luck the the seventh and eighth graders who are now taking the PSSA's!
Leave a Comment