#OOTW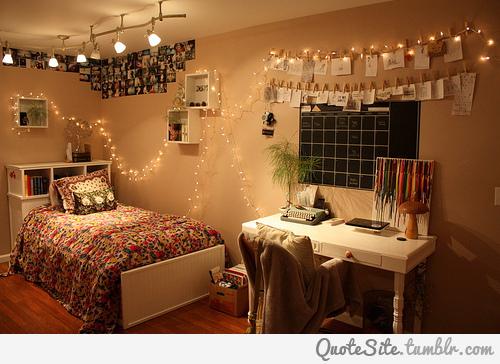 Room Decor
Boring room? Plain walls with nothing to look at? With these easy tips, you can make your room comfy, cozy and colorful!
 Start off by clearing the walls in the room. Get a bunch of magazines and go crazy with cutting out either cool pictures, quotes or making the paper into words. Two things that you can do are either are making a collage on a poster board or using blue tape for the letters so the paint on the walls doesn't come off.
A way to brighten a room is to add lights. Any type of lights would work, most used would be simple Christmas lights. Colorful or plain gold lights add a warm feelings to the room. Hang them anywhere around the room. Above the bed frame, around the door frame or around the border of the room.
Make your own coat rack by using an old wooden ladder, get an older parent to cut it and hang it for you. You can paint it or leave it have an older rustic look. After that add little knobs on the side and there you have it!
Those are just a couple simple things to do to a room to add any type of style and makes it feel more cozy. There's tons of more to try, hopefully you try these few!
Stay tuned for next week's edition of #OOTW!
View Comments (1)