Pro is the way to go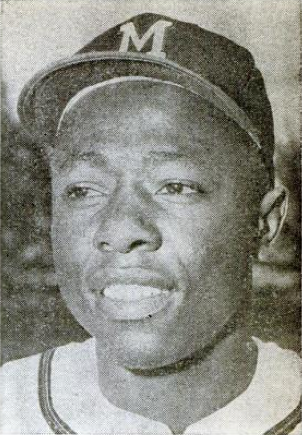 Everything that has to do with sports- Hank Aaron
This week's blog is about a former player. This player is Hank Aaron. Aaron is an important role model and plays an important part in baseball history. He broke many records and is very important.
 Aaron broke Babe Ruth's home run record. Major League Baseball Commissioner Bud Selig created "The Hank Aaron Award." This award is given to the best overall batter in the Nation and American Leagues.
Aaron was born in Mobile, Alabama and never played high school baseball. He began his career in a semi-pro league before moving to the Negro Leagues where he played for the Indianapolis Clowns.
Aaron was quickly scouted by the Boston Braves. He was a valuable player the roster and named Northern League's Rookie of the Year in 1952. He won the Most Valuable Player honors the next year winning the batting title and leading the league in runs batted in, runs and hits.
In 1963, Aaron joined the 30/30 Club(30 home runs and 30 stolen bases) while hitting 44 home runs and stealing 31 bases. He continued his success in the 1970s he got his 3000th hit.
After he retired in 1976, he became Vice President of Player Development for the Braves. He was elected to the Hall of Fame in 1982 and was named to Baseball's All-Century Team in 1999.
"I'm hoping someday that some kid, black or white, will hit more home runs than myself. Whoever it is, I'd be pulling for him," Aaron said.
This has come true and this quote is very inspirational. Him saying this is showing that even though blacks were discriminated against then, he still wanted white people to succeed.
View Comments (2)