Pet's Gone Wild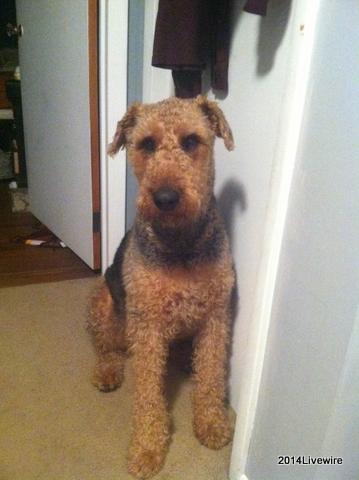 Highlights a student's pet every week
This weeks Pets Gone Wild pet of the week is Zeppelin.  Zeppelin belongs to eighth grader Cole Gibson.  Zeppelin is an Airedale Terrier.  He weighs 75 pounds and is two and a half feet tall. Cole has had Zeppelin since December of 2010.  He has been in the family for about 4 years.
"My sister named it after the rock band Led Zeppelin," Gibson said.
Zeppelin is a very good house pet.
"He is a good dog because you can play with him, take him on walks, and he is loveable," Gibson said.
Zeppelin doesn't need to be kept up as much as most pets.
"We wash him at least once a month, and I walk him about once or twice a week," Gibson said.
He is also an oblivious dog.
"My dog came out of his cage with a blanket draped over him, and he was walking around. We didn't know how it got on him," Gibson said.
Most dogs can do some pretty amazing and interesting things.
"My dog was sleeping on his back with his paws up and legs up while he was snoring," Gibson said.
Zepelin can also be mischievous.
"We thought my dog ran away and searched for him outside for about an hour, and it turned out that he was hiding hiding under the deck the whole time," Gibson said.
Leave a Comment