What's 411?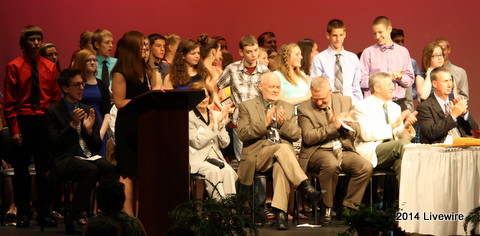 Clubs:
Circle of Friends Buddies stop by Ms. Morgan's or Mr. Lloyd's room if they are interested in a summer bowling league.
Ninth grade Honor Society Members who plan on attending the Hershey trip in June need to attend the meeting on Friday, May 30 in the auditorium at 7 a.m.
School Events:
Eighth grade award ceremony is being held on Tuesday, June 3 at 6:00 p.m.

Seventh grade award ceremony is being held on Thursday, June 5 at 6:00 p.m.

Hat day for participating students on May 30

Last day of school is Tuesday, June 17
Music:
Chamber is played at the eighth grade awards ceremony on June 3.

Next week is the last week that orchestra will be playing in school.
All the ninth graders are getting new instruments for next year.
Sports:
Soccer-  Seventh grade girls interested in playing soccer next fall can pick up a form from Coach Helsel, in the girl's locker room.
Volleyball- Any seventh grade interested in trying out for the junior high volleyball team, is supposed to attend an open gym.
Basketball- Any seventh, eighth or ninth grade girls interested in playing basketball next year, is asked to attend an open gym at the high school field house
Ninth grade girls on Coach Colledge's Building ll Summer league Team have their first game on Wednesday, June 4 at 7:00p.m

Football- Important informational meeting for eighth graders on Thursday, May 29 at 2:30 p.m. in Cafeteria 1
Leave a Comment