C.I.A. begins working on mural for school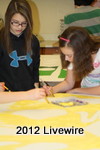 After creating ornaments and participating in the fundraiser for Operation SOS(support our soldiers), the Community Inspired Arts Club started working on a new project.
"We are currently painting a mural for the passageway between the Main building and Athletic building and it should to be done in the month of February," ninth grader Hannah Parks said.
"Community Inspired Arts Club is a great club that strives to help the community by using different forms of art," ninth grader Cheyenne Johnston said.
Community Inspired arts members say CIA is a great club for those who have a passion for art.
"Everyone gets along wonderfully, maybe because we all have the same interest and respect for art," Johnston said.
 There are several meetings throughout each month, which allow the group to work efficiently.
 "CIA meetings are on Mondays and Wednesdays after school until four and are either held in Ann Bickel's or Sara O' Roark's room," Johnston said.
Although many signed up for the club, not everyone shows up.
 "There were around about 50 students between the junior and senior high that joined the group; only about 20 show up for the meetings every week," Parks said.
  Many who take part in this group can agree that being apart of community inspired arts club is a lot of fun.
 "It is a bit of work and a lot of dedication, but it is extremely fun and absolutely worth it," Parks said.
Community Inspired arts members can agree that being apart of the club is  a great way for students to make new friends who share the same interest in art as they do.
  "I enjoy it a lot and meet many new people who, like me, love art," Johnston said
  During each meeting they always have something to do.
  "At every meeting we do at least one artistic thing," Parks said.
  The nice thing about C.I.A.  is that its never too late to join.
  "Mrs. Bickel lets anyone in at any time," says Johnston.
  You don't even have to be good at art to join.
  "No one is necessarily bad at art.  You could be picaso, or merely able to color inside the lines to join this club," Johnston said.
  The mural the club is currently working on will be school related and will be pretty big according to Johnston.
  "It will have a representation of Altoona trains, mountains, railroads and theatre; and it is supposed to cover the entire wall on the hallway between the Athletic and Main buildings," Johnston said.
 The mural isn't just for looks; there is a catch to it.
 "The whole point of the mural is to personalize the space there and make it look better, especially since it can be viewed from the outside for all to see," Parks said.
 The mural will also present itself with a message to its viewers.
 "It will look a bit miscellaneous which I think will give its viewers the message of freedom,imagination and possibilities," Johnston said.
 So far, there have been very little issues with the mural according to the club members.
 "We have had some things that needed fixing on the mural, but it hasn't been anything we weren't able to repair," Parks said.
 Working on the mural has given the club members an after school activity that they enjoy.
 "Being in CIA and working on the mural has been so fun.  We get to spend so much time socializing with friends and do the thing we all love," Parks said.
View Comments (5)