Festive Treat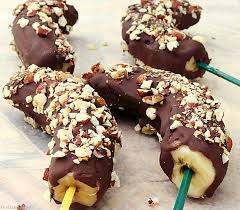 ~A dish to try on a holiday or a special/certain occasion~
 Due to this being the last blog why not make something to fit the season, Summer. This means it must be close to the end of the school year and usually there are end of the year parties to celebrate the long, memory filled year.  Why not make Chocolate Dipped Frozen Bananas for all these special occasions?  They taste great and is a nice cool down treat for a hot Summer day.  They're better just to eat them right away rather than bring them to a party though.
Ingredients:
Ripe bananas
Clean popsicle sticks
Chocolate 'magic' shell sauce or milk chocolate for dipping
Toppings (nuts, small candies, toffee bits, etc.)
Directions:
1. Cut the bananas in half and stick popsicle sticks in the bottoms of the bananas.
2. Put the bananas in the freezer for at least an hour.
3. In the meantime, get all of your favorite toppings prepared.
4. Dip the bananas in the melted chocolate and then sprinkle with toppings.
5. Put on wax paper and let freeze for another hour and enjoy.
Leave a Comment