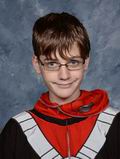 The belief of luck is my game, and I'm here to win.
I describe myself as a well mannered and positive attitude person who is willing to help anyone with anything within reason if it helps them with what they're doing. For myself I am pretty simple with normal likes of everything including: games of all sorts, running, dancing and probably pizza as my favorite food. My ultimate goal is to change everything to have a positive change about the world including people's opinions on subjects of the world.
To end, news is 10/10 amazing and people should consider it.
Eli Costanzo, Reporter
Mar 03, 2020

FOR High Five Day encourages great day

(Story)

Feb 12, 2020

News Brief: Spring Sport Physicals

(Story)

Feb 05, 2020

Wrestling season progresses

(Story)

Dec 17, 2019

Anime club makes changes

(Story)

Nov 27, 2019

Pop Tarts start students' days

(Story)

Oct 24, 2019

Fall sports teams wrap up seasons

(Story)

Oct 04, 2019

What is your opinion on global warming and the causes of it in our environment?

(Story/Media)

Sep 20, 2019

School sports album Sept. 13, 2019

(Story/Media)