Student council holds two Sweetheart Dances
During this month for the first time, there will be two Sweethearts Dances which are separated by eighth and ninth grade. The eighth-grade dance was on Saturday, Feb. 8 and the ninth grade dance is on Friday, Feb. 21. 
Due to the current eighth-graders moving to the high school next year the school gave them their own Sweethearts dance.  
"I think it's the best idea for two dances because it has been a tradition for ninth graders to have their Sweethearts dance for just ninth grade," ninth-grader Mason Crownover said. 
The ninth-grade dance will be held in the gym on Friday from 7 p.m to 9 p.m. 
"I'm looking forward to Sweethearts because it's closer, and I'm curious to see what my first Altoona dance will be like since I just moved here," ninth-grader Jimere Hardison said.
Tickets will be sold the week of the dance for five $5 on the ninth grade floor. 
"I think this year will be better than past years because I feel they learn what to do differently to improve for years in the future," ninth-grader Emma Clouser said. 
The Sweetheart's dance gives students the chance to dress up and socialize with friends. 
"I don't think you need to go with anyone. I'm just going with someone, so it's more convenient for pictures," ninth-grader Kaylynn Manley said.
For anyone unable to get formal clothes for the dance talk to a teacher or visit Rachel's Closet. 
"Though I'm looking forward to Sweethearts, I'm more excited about the social because it's at the end of the year, and we won't have school stress," Crownover said. 
"I'm really excited because the high school has dance but this our first dance we get to attend," Clouser said. 
The gym will be decorated for Valentine's Day with music playing and teachers there to chaperone. 
"I feel like it will be fun. It will be nice to see my friends all dressed up. I think it will be a fun night," Crownover said. 
The school will provide soda, water and chips during the dance for those who would like it. 
"I feel like it'll be fun because all of my friends will be there, and it will be a good time,"  Hardison said. 
View Comments (2)
About the Writer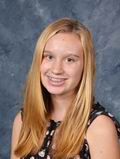 Maddie Cowfer, reporter
Hi, my name is Maddie Cowfer. I am a freshman in high school, and this is my first year on Livewire. One of my favorite things to do is run; I am on the...