Maroon gets ready for big game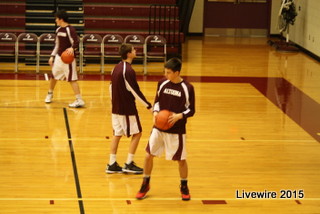 Maroon boys' team has played thirteen games and won seven of them. They have played together since January and have tried to gain momentum for this season.
"Our record as of now is 7-6. As a coach I don't think we're ever satisfied with our record but we have to keep improving and getting better each day and our record will take care of itself," Berardinelli said.
The team has to face their rival Hollidaysburg tomorrow for a chance to redeem themselves after their first loss to them at the beginning of the season.
"We play tomorrow at home, and we are ready for them. We changed up our defense and hopefully we can match their intensity this time," head coach Scott Berardinelli said.
They have practiced hard so they could be ready for this second chance shot at beating their rival.
"We practice for an hour and thirty minutes a day every day of the week," Nicholas Urchick said.
They lost to Hollidaysburg 42 to 38 their very first game of the year. They lost their lead in the fourth period and ended the game with a loss.
"The intensity of being in the heat of the game," Urchick said.
Leave a Comment