Varsity football team wraps up season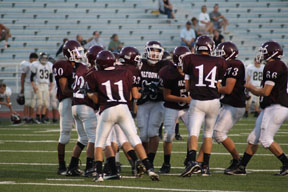 After all summer of conditioning and lifting, the ninth grade Altoona Mountain Lions started the season off slowly with a two and five record.  The lions hoped to have a winning season in 2012 but have lost too many games already to accomplish that goal.
"It's not where we want it to be, but we lost a couple close games," Kevin Smith said.
Smith plays safety, back up quarterback and also holds the ball in place for extra points and field goals.
The team lost their previous game to Butler by thirty points with the score 44 to 14.
The team will practice for their last home game this season on Thursday against Penn Trafford.
"We run through a lot of plays and we make improvements each day," Smith said
The teams play all of their home games at Mansion Park which is the home stadium of the high school team.
"Whenever we are down, it is one of the things that makes me want to win more because I don't want to let down the fans," Ethan Blackie said.
The team hopes to finish the season with two wins against Penn Trafford and Woodland Hills.
View Comments (4)