Junior volleyball players enjoy club season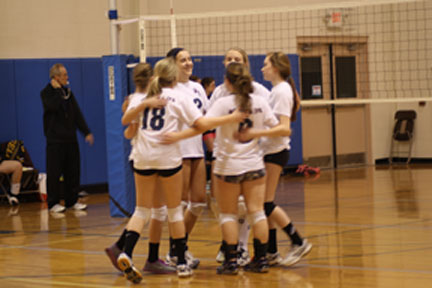 Division A juniors volleyball team now has a record of 14-1.  This team consists of mainly ninth graders, but there are a few eighth graders that play up.  These select eighth graders also play on the Junior Division B team.
There are a series of drills and exercises that each player must complete before playing or practicing.
"We run, use the therabands, do stanford, pepper and do mobilities," ninth grader Lydia Greaser said.
The girls must run two laps to stretch their legs out.  Therabands are used to stretch the arms and the shoulders.  Stanford is a drill to keep passing under control.  When players pepper, they can do multiple things, but the main pepper that the players do consists of an underhand pass, an overhand pass and a spike.  Mobilities consist of lounges, knee to chest, toy soldiers, roman deadlifts and sprinting.
"We run two laps and practice hitting.  We also fire up the team," eighth grader Rachel Borst said.
Along with their weekly games and practices, the team has events like team bonding in which they get to know each other better.  They also develop more of a family feel rather than just a team.
"I don't think we are a team, I think we are a family," eighth grader Sidney Puhatch said.
"We are all good friends.  After every single play, we come to the center and say good job to each other," Greaser said.
"I think we are very close and well knit family," Borst said.
As the ninth graders transition from the constant flow of practices and games, they have a feeling for what the high school team is.  They also have a little bit of a break.

The ninth graders that play in the Saint Rose league were on the Altoona Lady Spikers Junior Varsity team.  They worked very hard during this season to get on the court for some playing time.
"This is different than the high school season because we don't practice as much," Greaser said.
Along with all the other managers that the Altoona Lady Spikers had, Borst and Puhatch played a large role in their stats.  Puhatch and Borst both managed for the girls' high school team, so they have experience with the practices and games that the ninth through twelfth graders face. Although they did not get stats this year, they did have to take stats.
"There are less practices and less games.  There is less critique and less stats," Borst said.
"It is more of a break down and step by step rather than finesse.  It is not as intense, and there are less stats," Puhatch said.
Stats are the number of passes and hits that a player has during each game.  The stats are totalled at the end of each season to give a player a total stat number.
The ninth grade team played Bishop Guilfoyle on Thursday, Jan. 31 and took their first loss. This resulted in their new record of 14-1.
In this league, the games are not counted the same as they are during the high school season.  They are counted by each individual game.  That means there are three separate games that can add to their record.  The games are played on Thursday evenings at Saint Rose.
Leave a Comment