Students prepare for benchmarks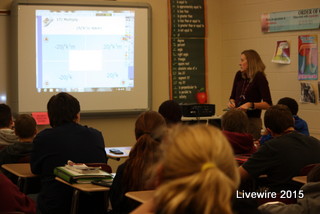 The end of the marking period is when students take benchmarks; all students must prepare to take either benchmarks or midterms.  Seventh grade will be taking their second benchmark ever, eighth will be taking their second benchmark of the year and ninth graders will be taking their first midterm.
"My first midterm went okay, I suppose. I had a biology and Spanish midterm.  The biology was definitely better than the Spanish. There were some questions I didn't know on either, but I tried my best.  Spanish was really difficult because I felt like I wasn't prepared to take it," ninth grade student Danielle Irwin said.
Students say benchmarks get harder each year.
"They are harder than last year.  In math, the problems are harder to solve and more confusing than last year," eighth grade student Major Greaser said.
Teachers make the first benchmark different than the others to ease students into the process.
"Usually the first marking period is the easiest one. Second marking period I added more short answer essay questions so they have to be more elaborate in their answers," ninth grade teacher Kristin Fazio said.
Students in seventh grade are will be taking their second benchmark of the year.
 "I don't think benchmarks are easier the second time around because you don't know if the test is going to be totally different or the same as the test in the first marking period. And also, it is a totally different curriculum that you haven't learned yet,"  Seventh grade student Isabella Cipriani said.
 Each teacher has their own way of setting up a benchmark for their students.
 "I usually start with multiple choice and then true or false or diagrams and then I always end with essay questions because I just think it helps them organize their thoughts better like that," Fazio said.
Leave a Comment