Girls' basketball is on fire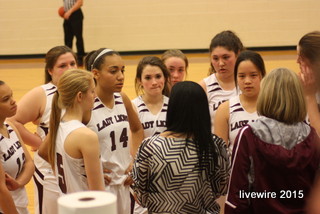 Ninth grade girls' basketball have held their winning streak for the second season in a row. The girls reach toward the end of their season with 12-0 and have only two games left.  For the first time in school history the same girls ended their eighth grade season 12-0.  They also look to break the school's record for going two seasons without losing one game.
The team's top scorer, Olivia Hudson, was injured earlier in the season, making the rest of the team step up.
"Everybody stepped up and played better with Olivia," ninth grader Bridgid Fox said.  
Fox is the ninth grade team's second most leading scorer.  
After talking to teammates, the athletes feel they aren't doing their best.   The team's members know they can play even better than they already are, which is going to be pretty hard
" We've been playing pretty good, but we haven't lived up to our full potential," ninth grader Grace Shaffer said.  
" I've played pretty good, but I know I can play better," ninth grader Fox said.
The team's last game was Jan. 25, against Mifflin County.  The ninth graders won the game 42-18.
"I really hope that we can just close out the season undefeated," ninth grader Kaite Cumming said.  
The girls team is only two more wins away from finishing a perfect season.
Leave a Comment