Boys' tennis team readies rackets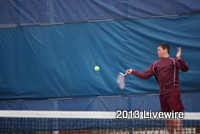 The boys' tennis team, for both the junior high and the high school, has started practicing for their upcoming season. They return with last season's top five players and add newcomers to the team.
As of now, the top five players are Chris Reighard, Joey Settimio, Mustafa Ahmad, Ryan Good and Chad Allender. Compared to previous years, the tennis team is relatively smaller, there is a total of 18 players, of which only 13 are eligible players. The senior players include Chris Reighard, Joey Settimio, Elliot Wilt, Connor Brandt and Ben Borst. Mustafa Ahmad and Matt Eiman are the juniors on the team. Next are the sophomores, which are Ryan Good, Chad Allender and Thad Zitch. Jake Colledge, Sam Houk and Corey Doeing are the new freshmen players to the team.
"I see us doing very well. We have the top five seeds back and some good underclassmen on the team as well," Colledge said.
"I feel very good about this years team.  Many of our returning players have varsity experience and have shown improvements in their game.  I really like how deep our team is as well," head coach Eric Hovan said.
Not only is Hovan the boys' and girls' head tennis coach, this is his fifteenth year coaching for boys' tennis.
"We had 40 girls in the fall and only 18 boys this spring.  It makes it easier as a coach to work with players more individually.  Each player will have more chance at varsity play as well," Hovan said.
For many of the players on the team, they have played tennis for many years. To some, tennis comes naturally, but for others, it takes much practice and lessons. The team tries to practice five times per week, when the weather permits. Practices consist of warming up by hitting a repetition of forehands, backhand, and serves, then playing a match against another player of the team.
 As of now, the team is in the process of playing challenge matches, which is when they play each other to determine their rank on the team for varsity playing time. For about half of the season the players are in this lineup, but then the coach holds another set of challenge matches to determine if the players should receive a new spot in the lineup.
 "Weather has been a huge challenge so far.  It has been hard to get our team ranks done.  We have a lot of good talent in our freshmen class.  They are very skilled but need to improve their match play skills," Hovan said.
 "I think I can get anywhere from the fifth to the ninth," Colledge said.
"They (students) should come to home matches, specifically Hollidaysburg. Beating Hollidaysburg would be a challenge for the team. They have a talented group of young players, so they will be tough to beat the next couple of years. If we're willing to work to get better as a team, we should be able to compete with everyone," Colledge said.
In total, there are 18 matches that the whole team can participate in, and if certain members of the team can achieve it, there are District 6 Singles on April 26-27, also on May 3-4 there are District 6 Doubles. Both of these are taking place at the Leopold tennis complex between the junior high and high school. If the team as a whole can obtain entry into the Team Districts, they will play May 6 in the semi-finals and if they win that, they will compete in the championships on May 8.
"State College has won district six the last nine years. Hollidaysburg has been very good as well," Hovan said.
Additionally, the first time the team plays Hollidaysburg is April 3 at 3:30 p.m. at the Leopold tennis complex.
Leave a Comment