Ninth grade girls' basketball players prepare for season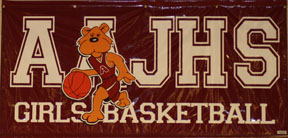 "There's no doubt with the determination that these girls have and their competitive spirit, we will do great things this season, " Coach Jason McGinnis said.
The ninth grade girls have been preparing themselves since the summer.
" I'm very excited for the season, spending time with the girls and the fun bus rides," Addisyn Mcgregor said.
They had weightlifting in the summer; this was the first year they got to lift weights. They also had some game time practice because they  played at the YMCA in the summer league.
"I had to push myself because they were more experienced, and I had to get use to playing them," Mcgregor said.
They tried to get a practice in every week that they could. Not only did the team prepare themselves, Addisyn got some extra practice in also,
"I shot everyday that I could," Mcgregor said.
The girls will be playing some new teams this year.
"We are playing Cumberland Valley, Northern Allegheny and a couple Pittsburgh teams,"  Mcgregor said.
" We have a tough schedule this year, toughest it's been in years, but I know our girls will be ready  for the challenge and will accomplish great things this season," McGinnis said
Their first game will be Dec. 9, and they will be playing North Allegheny. The ninth grade girls' basketball team will be combined this year unlike last year when there was a maroon team and white team. Addisyn said that being combined this year would be the biggest difference from last year.
"Coming out of eighth grade and now playing together as one team, can sometimes be a challenging situation," McGinnis said.
Leave a Comment