Maddie's Guide to The Great White Way
Ever since I was a little girl, I have loved musicals. My grandparents and father have taken me to see many shows from Oscar and Hammerstein's "Cinderella" to "Hamilton" to "Wicked." With each show, a special memory is carried with it. Today however," Waitress" is the star of my first Broadway blog. 
I am a little biased when it comes to "Waitress" as I have seen it twice with two different casts, but even without that experience, I promise the music is spectacular. From upbeat numbers such as "Opening up" and " Bad Idea" to heart wrenching ballads like "She Used to be Mine," the show carries out the balance of harsh realities and laugh out loud, charmingly romantic moments perfectly. 
"Waitress" follows Jenna who works at a pie diner in a slow town. Jenna bakes pies as a way to escape from her difficult home life. Each and every pie she makes has a special name and an important meaning. When Jenna finds out she is pregnant, she has to make a difficult choice that could either change her life for the better, or completely ruin her and her unborn child. 
Along with following Jenna, the story also follows two other waitresses at the diner, Becky and Dawn. The oldest waitress Becky has been married for a long time and has been stuck in the same place even longer. All she wants is to have a little escape from life for a while even if that means making some decisions she wouldn't normally make.
And then there's Dawn who brings some much needed comic relief to the show. She is a dorky, awkward goofball with a pure and honest heart. Dawn is looking for love but is scared of putting herself out there. As each of the waitresses, attempts to figure out their lives, they rely on each other to get through.
"Waitress" isn't just about making your way through difficult times. At its heart, Waitress is about finding family, being brave and embracing whatever life throws our way. And of course, it wouldn't be complete without a little romance and some well made pies.
Although "Waitress" is a well known Broadway show, there is still one little fact about the show you may not know.
Singer/Songwriter Sara Bareilles wrote the music for the show!
That's right! Sara Bareilles, singer/songwriter of the songs "Brave", "Love Song", "Gravity" and "Bottle it up"wrote the music for "Waitress." She worked on the show and loved it so much that she has played leading lady, Jenna, multiple times on Broadway and the West End! When Broadway reopened in September of last year, Bareilles was there to reopen the show.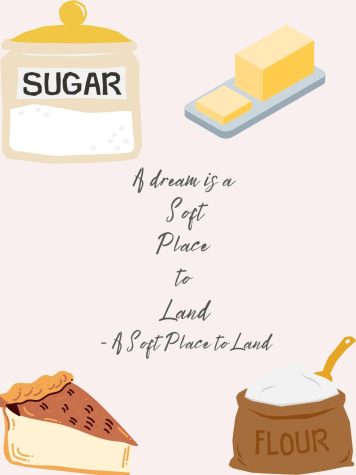 "Waitress" has something other shows don't have. Every musical has an amazing heart at the center of it, but with "Waitress" spectators can feel the love the cast has for each other radiate throughout every moment of the show. Even just by listening to the soundtrack, the audience can feel the respect and adoration the cast has for each member. The show runs on the love the company has for each other. 
An important warning to put out about "Waitress" is it does have some PG-14 moments and themes. Domestic abuse, pregnancy and intimacy all play a role throughout the show.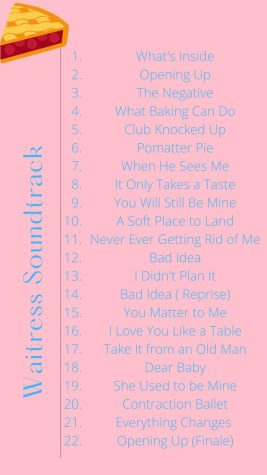 It is nearly impossible to talk about the actors and actresses that star in "Waitress" because so many people have played these characters and brought their own twists to them.
Jessie Muller, who originated the rule of Jenna, brings a more emotional twist to the character, while Sara Bareilles brings the more humorous and sarcastic approach to Jenna. Every actress that steps into the rule has big shoes to fill, and each of them does it in their own unique and beautiful way.
I have spent so much time talking of the leading ladies of "Waitress," that I have neglected the men.
In the show, there are four main male characters: Dr.Pomatter, Ogie, Cal and Earl.
Dr.Pomatter is the new doctor in town, and when he meets Jenna, sparks fly instantly. The issue however? Jenna is already married and with child to her abusive husband, Earl. The other issue? Dr.Pomatter is in town in order for his wife to complete her nursing residency.
Then there is Ogie. Like Dawn, Ogie is a goofy, crazy and energetic ball of fun. Everything Ogie does is with good intent, even if it doesn't seem to be at first.
Last but not least, there is Cal. Cal runs the pie dinner and has a gruff and rude attitude, but he is a character that audiences can't help but love.
What makes it even better is almost all of the couples get a duet throughout the show. From Jenna and Dr.Pomatter's "You matter to me"or Ogie and Dawn's "Love You Like a Table," each couple has a unique love story that is unraveled throughout the story. 
All in all, "Waitress" is a show that will capture any viewer's heart. Although there are many difficult and controversial topics throughout the show, everything that is bad is mixed with some well placed humor to go along with it. And of course, a musical about a waitress would not be complete without some wonderful pies and a good ballad or two to tug at the heartstrings of anyone in the audience.
Leave a Comment
About the Contributor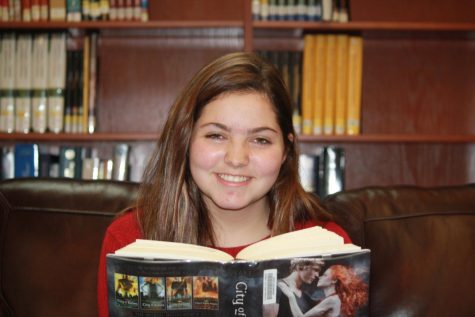 Madison Aboud, Reporter
Hello! I am an eighth grader. Ever since I was young, I have loved to read, and I also have always liked to write. In my free time, I love to sing, read,...