New freshman athlete adapts to indoor track season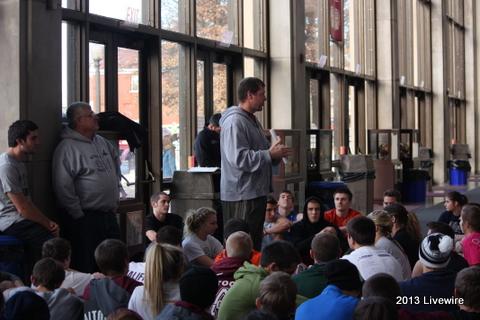 Icy cold wind whips the face of freshman, Rhiannon Stangl as she trudges toward the Altoona Area High School Fieldhouse, accompanied by a small group of her friends. Weaving her way in and out of the crowd of lingering students, she enters the building and heads straight to the women's locker room to change for practice. The first day of the indoor track season has begun, and Stangl can't wait to get started.
After rejoining her friends in the main hall of the fieldhouse, the head coach, Mike Adams, instructs the athletes run four quick laps around the inside of the fieldhouse. Upon completing the warm up, Stangl joins her fellow athletes to begin her workout.
"I do jumps," Stangl said, "and I just do sprints with the sprinters."
Stangl's regular workout includes conditioning, such as stair workouts, and calisthenics routines, exercises designed to help her and her teammates peak during outdoor track season.
"I'm happy that I get a workout so that I'm in shape for outdoor track," Stangl said. "I think it (indoor track) will build my endurance and give me the strength I need to start off my season."
As a freshman, joining a new sport in the middle of the year can present itself as a challenge. New athletes must learn to overcome obstacles such as schedule changes and daily after school practices that cut down on study time.
"I have to move my homework back and I have to change my vocal lessons," Stangl said.
Issues such as these can start to take a toll on the best of athletes after time. Although she just started indoor track, Stangl has come prepared to deal with these changes in her schedule and allotted work time. "I just pace myself," Stangl said. "I just put myself on a strict schedule."
In addition to the changes in her schedule, Stangl has noticed a clear difference between this new high school sport and the Junior High track program, which she had participated in for two years prior to joining indoor track. "They're more strict on competition. They (the coaches) want everybody to be on time so it doesn't bring down the team. The junior high is more lenient," Stangl said.
According to Stangl, the coaches expect much more from her as an athlete. Also, the number of meets that she and her fellow teammates will get to attend differs drastically from the number they could attend in the junior high track program. "Not everybody gets to go to the meets; only the higher classmen," Stangl said.
Although she finds this a little disappointing, Stangl feels like the sport will at least help her to become a better athlete for outdoor track, which was her main reason for joining the sport in the first place.
Although indoor track differs greatly from the junior high track program, Stangl has enjoyed the first few practices so far. Even though the strenuous work often leaves her and her teammates exhausted, she knows that it will help her in the long run.
"It (practice) is pretty fun," Stangl said. "The coaches are really nice."
According to Stangl, everyone involved in the program has acted friendly and supportive towards her so far. "There's a girl in tenth grade, I don't know her name, but she was very nice and told me if I have any questions about indoor track or outdoor track, she would help me through it."
This kindness shown by her coaches and teammates has definitely helped Stangl to have a good first impression of the sport.
Indoor track started only a few days ago, yet this freshman athlete has already come to enjoy the sport. Despite schedule changes, harder workouts and winter weather, Stangl continues to put forth the effort that will help her grow stronger as an athlete. The season has barely begun and Stangl has already shown that she can handle whatever the upcoming season will throw at her.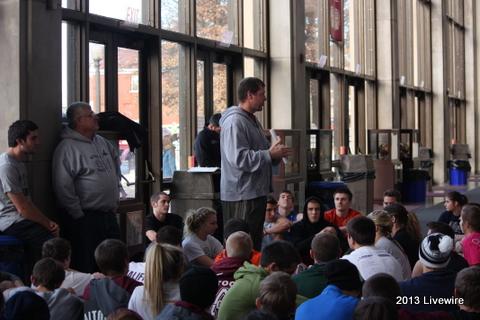 View Comments (1)