Seventh grade white football fights back after slow start to season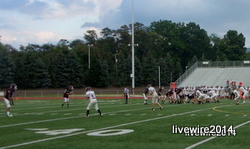 The seventh grade white team players struggled during the 2014 season. After two  losses at the beginning of the season, the team pushed to try to come back and make it to the play offs.
"We went 5-2, because in the beginning we didn't know how to play well with each other," Clouser said.
When they lost, they weren't able to score a single point. The other teams shut out the Mountain Lions in those losses.
"Our losses were 26 to 0 and 8 to 0," Clouser said.
"We lost because it was the beginning of the year and didn't have enough playing time with each other, and we could have played better defense," said Clouser.
After those two losses they won five straight to make their record 5-2. Their first two games they played they lost and the next five they won.
"We worked pretty hard for it," Clouser said.
They practiced five days a week with their coach and lifted on Saturdays.
"He pushes us pretty hard during practice," Clouser said.  "I know he is just trying to help us win if we didn't fool around at practice it would be easier."
Clouser plays middle linebacker and tight end.
"I like to tackle, and people say I'm a good catcher for tight end," Clouser said.
Players say they can't wait to play next year. They agree it will take a lot of effort next year to have a better record than this years.
Leave a Comment