'Toona Times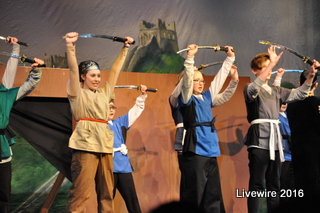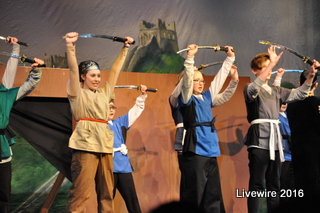 Mulan Jr. opens for the school
What is happening this week in the Altoona Community. 
"Mulan" the play is based on the Oscar Nominated Film," Mulan Jr." It is a delightful celebration of culture. It honors feminism and bravery. It involves action-packed music, humorous dialogue and a powerful feminist.
In the beginning of the play, Mulan (Paige DeGennaro), was a young frazzled girl who loved adventure and wanted nothing to do with getting married. Her family was afraid that if she did not meet her husband soon she would be a disappointment.
The war was breaking out against the Huns, and since Mulan was the only child in her family, they called on her father for the draft. Mulan was too worried about him because he was far too old to fight and had a hurt leg. She then made a courageous decision and went on to pretend to be a man and go to war in her father's place. Mulan turned out to be a great soldier and earned much respect from the ones fighting along side her. After she saved her allies and beat the Huns, she thought it was a good time to show who she really was. The soldiers were not pleased with her, and became so angry they sent her home.
Mulan's elders were ancient women who died long ago and kept watch over her throughout her entire life. They sent a tiny, humorous,  Red Dragon named Mushu (Grayson Cole), to warn Mulan about what was about to come.
Mulan then found out, with the help of Mushu, that the Huns were still alive and were planning to come back for revenge. Mulan quickly went to warn the soldiers and came up with  brilliant plan to confuse the enemy by ironically dressing up as women. They ended up winning the war once and for all and accepted Mulan as the strong woman she was.
As for the performance, it was an amazing production. Every actor/actress involved was unmistakably talented. The vocals of Paige DeGennaro were breathtaking and her performance was exceptional. It was clear that she was the best girl for the part. Grayson Cole, who played Mushu was a humorous, light-hearted aspect to the play. He really had the quirky personality and stage presence the part called for.
Even though this boy had more of minor part, the crowd couldn't help but notice Nathan Wilt who played Quan Po. The entire show he had the best reactions and dramatics that the audience absolutely adored. The ancestors: Maddison Butler, Darrah Evans, Andrea Hetrick, Kierra Moist, and Zoe Wilson were great at making the audience feel that they were experiencing "Mulan", rather than watching the play.
Overall, the production was done very well and the casting was perfect. It couldn't have exceeded my expectations more!
Leave a Comment