Campbell returns as Hatch moves to new position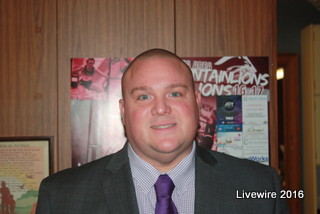 In January, students, especially eighth graders, will most likely notice a change: former seventh grade principal David Campbell will be the new eighth grade principal. Campbell will replace Brad Hatch, who recently accepted the position of assistant superintendent for the entire school district.
Hatch took the position after Dr. Luke Lansbury resigned, creating a vacancy for the spot.
"Mr. Hatch originally did not know about the position opening. However, after the deadline passed, the school district decided that there were not enough applicants and prolonged the application submission. After that, he decided that he fit the requirements, so he submitted an application. Since he was already working in the district, he got the job," ninth grade principal Jerry Koehle said.
Although Hatch is leaving the junior high, his influence will continue. In his new role, he will have the opportunity to not just improve the education of the junior high students, but all students in the district. He will still work with the junior high principals, but in a revised, all-encompassing leadership role.
"I still will have a relationship with Hatch. He and I have been working together for 15 years. But now that he was appointed to this position, we will have most of our interaction throughout meetings," building principal Lori Mangan said
"I thought taking on this position would be an opportunity to make an impact on student education on a global scale, working with the high school and junior high administrative teams to improve our learning opportunities for all kids," Hatch said.
Like new superintendent Dr. Charles A. Prijatelj, Hatch intends to build on the district's strengths while working to improve deficiencies.
"I think we do a lot of wonderful things, and have a lot of great opportunities for our students. However, there is a gap in math, biology and ELA. I plan to help fix these gaps and make them more even with the other subjects. We are also pursuing a one-to-one technology initiative, making it so that every student will have some sort of technology he or she will use in the school day," Hatch said
Even though he will have to adapt to the job of principal in January halfway through the school year, Campbell's transition will be smoother than one might anticipate.
"Mr. Campbell should be able to pick up right where Mr. Hatch left off. He was originally acquainted with our system and how it works. The only new thing he'd need to do is to acquaint himself with the new teachers who have been recently hired," Koehle said.
"I think it will be quite easy for him to fit in because he already knows many of the curriculum initiatives, and it will take little time to fit him in," Mangan added.
As per his contract, Campbell is being held for 60 days at his current school. In the meantime, Hatch's responsibilities are divided between both his former role and his new one. The present administration is maintaining order during this transition.
"With there being an opening on the eighth grade floor, Mrs. Bogle and I have had to take control of the disciplinary issues pertaining to the students there. She has the first half of the alphabet, while I have the second half. Other than that, nothing has really changed," said Koehle.
Even though students, teachers and administration alike will have to adapt to Hatch's departure, Campbell possesses the necessary experience to continue the junior high's initiatives. At the same time, Hatch will be working to improve the district on a global scale.
"I believe that it is positive to have his [Hatch's] expertise for the district. One of the things we've talked about is that we had a quality person filling his shoes. Having Mr. Campbell come back will ensure that he is able to pick up where Hatch left off, and it will be a smooth transition once Campbell has arrived," Mangan said.
"We always want to continue improving our educational environments, and the overall climate of our buildings. I also plan on increasing opportunities and services for students. That would be academic, athletic, musical–all of the things we want our students to have," Hatch said.