Special education teacher retires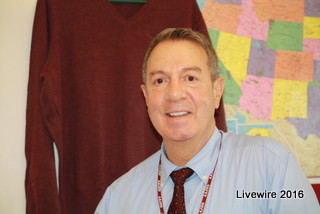 It will soon be the last day for one special education teacher.  
Dec. 22, 2016 will be the last day of teaching for teacher George Sinisi.  He is part of the special education team.
Sinisi has been teaching for many years.
"I am in my eighteenth year but have been working for thirty-eight years; however, not all of these years have been in the teaching field," Sinisi said.
Sinisi teaches many students grades seventh through ninth. He enjoys working with all of his students.
"Yes, I enjoy trying my best to have some positive effect on all students I encounter," Sinisi said.
Teachers could have so many reasons for retiring.
"I am age sixty-two, and I have always had a goal to retire at this age," Sinisi said.
Retiring means the teachers have to leave the faculty and staff at any schools they worked for.
"I am going to miss teaching so much, and I also will miss the faculty and staff at AAJHS,"  Sinisi said.
Teachers at establish friendships with their coworkers. Sinisi had established a very good friendship with Dave Bartek. Bartek is the teacher for careers and business.
"I am going to miss his friendship and his presence in the building," Bartek said.
Sinisi has had many accomplishments during his time working
"He has positively affected the special need students, and he was one of the few individuals who helped keep Bartek sane in the last 20 years," Bartek said.
Sinisi has plans for his retirement.
"I plan to spend more time with my family and grandchildren, and I enjoy hiking and biking with with my wife. I also belong to Sylvan Hills Country Club,"  Sinisi said.
Sinisi believes the students that he taught will be successful one day.
"I would like to say that it has been my pleasure to work with all of you, and I hope that you are successful in your education and benefit from the good education that the Altoona Area School District provides," Sinisi said.
He also has some advice for future teachers.  
"I would say that a positive attitude everyday causes a chain reaction and creates good results among students and the faculty," Sinisi said.